A security officer is now homeless after a fire of unknown origin completely destroyed his home at Riverstown Essequibo Coast, Region Two (Pomeroon-Supenaam) on Sunday.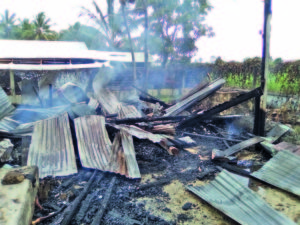 According to information received, the owner of the house, 27-year-old Kumar Mohamed, a security guard, left his home around 06:30h and went to work.
According to Mohamed, he later received a telephone call from his uncle, Madho Persaud, who informed him that his house was on fire and he had already contacted the Guyana Fire Service (GFS).
Firefighters attached to the Anna Regina Fire Service were deployed to the scene, but by the time they arrived, the raging fire had already gutted the building.
However, they managed to contain the blaze, preventing it from spreading to nearby buildings.
Mohamed estimated his loses to be around $1.4 million.
He stated that he was unable to save anything, and a refrigerator, computer, bed, gas stove, flat-screen television, garments, and other valuables were all destroyed in the fire.
The GFS is currently trying to ascertain what might have caused the fire. Only four days ago, an attempt was made to burn down the Suddie Magistrate's Court.