Batavia is a modern-day Indigenous village located on the twin banks of the Lower Cuyuni River in Region Seven. Its population is a mere 340 inhabitants, and its affairs are governed by a Toshao and five councillors. Dutch in lexicon and meaning "Ancient District", Batavia was once an area where coffee was cultivated by the Dutch. This settlement was established in the 1950s, with the villagers opting to keep its Dutch name. The community formally became a village in 2014, when it received its land title from the then Ministry of Amerindian Affairs.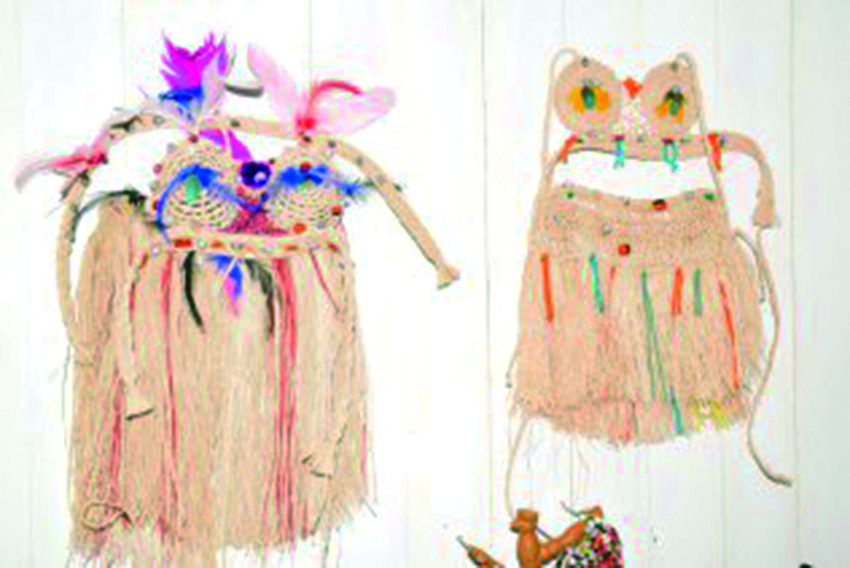 Arian Island is the administrative centre of Batavia, and it is here that the Batavia craft centre is located, playing a critical role in preserving the tradition of the Indigenous peoples. Village Toshao Eon Boyal, in a recent interview with the Government Information Agency, explained that the centre started as a project from the Indigenous Peoples' Affairs Ministry. He said a management committee was established after a village meeting was hosted, and the women decided the craft industry needed reviving. Funds were subsequently obtained from the Ministry, and the facility housing the craft shops was erected.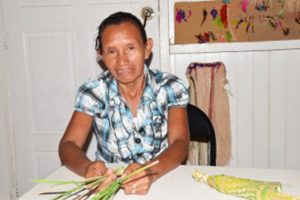 "We had one trainer from the village, but we wanted these nice fancy designs, so we had to bring someone from another village (and) pay her a monthly salary so that she could teach the other women. She spent two months," Boyal explained.
Glearly Williams-Smith, a nurse by profession and a mother of two, visits the centre in her spare time and makes jewelry, hats and bags. The nurse describes the centre as a home away from home, explaining that when the women gather, the atmosphere is one of unity and togetherness. "We strengthen each other and we talk about any and everything," she proudly declared.
Williams-Smith, who has her roots in both the Arawak and Carib tribes, explained that she uses colourful beads which can be sourced in her village, among other local materials, to make accessories such as hats, bags and clothing. She explained that completion of her work depends on the length and quantity of the orders she has received, disclosing that sometimes she has to source some of the beads from neighbouring villages when she gets large orders.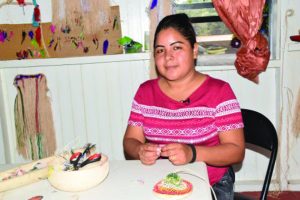 "I feel proud of the woman I have become," she disclosed. "And the feeling that you (get) when you can give back to your community and support your family (cannot be described)," she said.
As a little girl, Williams-Smith said, she used to watch the females in her family make craft items and earn a living from so doing. She said she used to be amazed at the speed at which they worked, and the creativity they would employ. She related that her dream in this respect is to learn as much as she can, so that when her daughter is of age, she can pass on to her the knowledge and skills that she would have acquired.
Emmanuel (only name given), another phenomenal Indigenous artist, describes herself as an "Amerindian woman who loves what she does". This woman engages in weaving Indigenous craft items both as a means of earning an income as well as to teach others. She makes such items as the matapee, which she said is very difficult to craft because it requires special skill and patience.
Reminiscing on her childhood, Ms. Emanuel said she could recall being around her father a lot; watching him fish, hunt and engage in making craft items. "Bear in mind that I am a woman. You know what they say: that women are supposed to be in the kitchen, but I wanted to learn the same things that the men were doing," Emmanuel pointed out.
The woman eventually fell into the way of life of a typical Amerindian woman – making craft items and preparing delicacies. She said she is happy that the centre is in existence, adding she is grateful that she is able to pass on her knowledge to the younger generation, and elaborating that the tradition of her people can live on in this way.
The Toshao detailed that there are five other women on the management committee, and they are all actively involved in the centre. He said that craft items are sold in the surrounding villages on 'Village Day', and that Sales' Day occurs every Thursday in Batavia. He also said that persons from contiguous villages grace the community with their much welcomed presence to purchase items.
Toshao Boyal expressed satisfaction at the present operations of the craft centre, saying, "I am very satisfied that the women could have come up with such a magnificent idea, and bring it to light". Thanks to the establishment of the craft industry in this small community, women are now able to create Indigenous outfits and accessories to complement same. The Toshao said the women are seeking to expand the variety and design of items they create. He explained that 'outside' help would be needed in this regard, and said the village is yet to make a decision on when to embark on this development.