Year in review of Berbice cricket Part 1…
The return of two-day First-Division cricket in Berbice was among the host of successes achieved by the vibrant Hilbert Foster and his Berbice Cricket Board (BCB).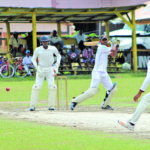 Despite the fact that many may not appreciate the work done by Foster and his team in the world of cricket, the year 2019 is certainly one to remember for cricketers and citizens in Berbice.
With players, both male and female, getting the opportunity for higher representation whether on the Guyana and West Indies teams, more than 60 cricket tournaments were conducted between 2018 and 2019, a host of donations and contributions were made off the field, and inter-county cricket returned to Berbice. These were among the major accomplishments. Multiple cricket clubs received balls, coolers, and clothing among other resources in 2019.
After a hiatus of more than 15 years, two rounds of the BCB-Banks Beer Two-Day cricket were played and the tournament was deemed a success thus far. With international and national players returning to the fold in the local arena, this tourney, sponsored for in excess of $2 million, produced some of the highest quality of cricket played.
The likes of Devendra Bishoo, who last played for West Indies in March 2019; Jonathan Foo, who made a comeback to the Guyana Jaguars team; Veerasammy Permaul and Jaguars newbie, Nial Smith were all involved in the high-profile Two-Day tournament. Additionally, after more than five years, inter-county cricket returned to Berbice with the Hand-in-Hand Under-19 One-Day Match at Albion between Berbice and Essequibo.
Meanwhile, numerous Berbice cricketers tasted success in 2019, the likes of Kevin Sinclair who won the Regional Super50 Cup with the West Indies Emerging Players; Foo, who returned to the national team; Romario Shepherd, who made his international debut and tasted success with Guyana Jaguars and Amazon Warriors; Kevlon Anderson, who played for West Indies Under-19s and gained selection to the Under-19 World Cup; and the West Indies Under-15 duo Rampertab Ramnauth and Isai Thorne among others, including female players Shemaine Campbelle, Shabika Gajnabi, and Sheneta Grimmond.