ꟷ owing to rainy season
The highly-anticipated Muslim Youth Organisation (MYO)-Trophy Stall Inter-Jamaat Softball Cricket Competition has seen some of the top softball teams among the many masjids in Guyana battle for supremacy at the MYO Ground, Woolford Avenue, Thomas Lands, Georgetown.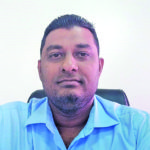 However, the current rainy season has forced the suspension of the tournament, which will reopen on January 12, 2020.
Speaking with Guyana Times Sport, Sports Committee Chairman and Senior Vice President Imran Ally said, "For the year 2019, the tournament was great; it was better than anticipated, showcasing a great level of competition. MYO were the runners up in May 2019, but we are looking to take the trophy home this time around. To do this, we must have the batsmen in good form and good team spirit to take us all the way. We'll continue to show your support so that we can make it better next year; we also have sponsors earmarked for next year. We have MYO-A Ally and Sons to run off a competition in Berbice; also, we have MYO/Raf's Variety for Georgetown and we are currently looking for one in Essequibo. We also have plans to bring the top two teams from each county to compete to see who will be the best; also, have plans for a football competition, so that youths can get more involved and keep them away from the evil vices out there."
Ten teams have registered – two more than the last time the tournament was held. The teams in the competition are LBI A Masjid, LBI B Masjid, New Mosque, New Amsterdam Masjid, MYO, Cornelia Ida Masjid, Leonora Masjid, Tuschen Train Station Masjid, Hague Masjid, and Diamond New Scheme Masjid. Teams have come from new masjids, such as four from the West Coast and one all the way from Berbice.
This event is sponsored by Trophy Stall.
The current points standings are as follows:
Name Games Points
MYO 4 8
Diamond 5 2
LBI A 5 2
LBI B 6 4
NM 4 0
Tuschen 5 6
Cornelia Ida 6 8
N/A 7 12
Hague 5 6
Leonora 5 4