– 2-day tournament to be launched on October 29
The busy 2019 Berbice cricket season on Thursday last became even busier with the Berbice Cricket Board (BCB) launching the second edition of the Ivan Madray Memorial First Division Tournament.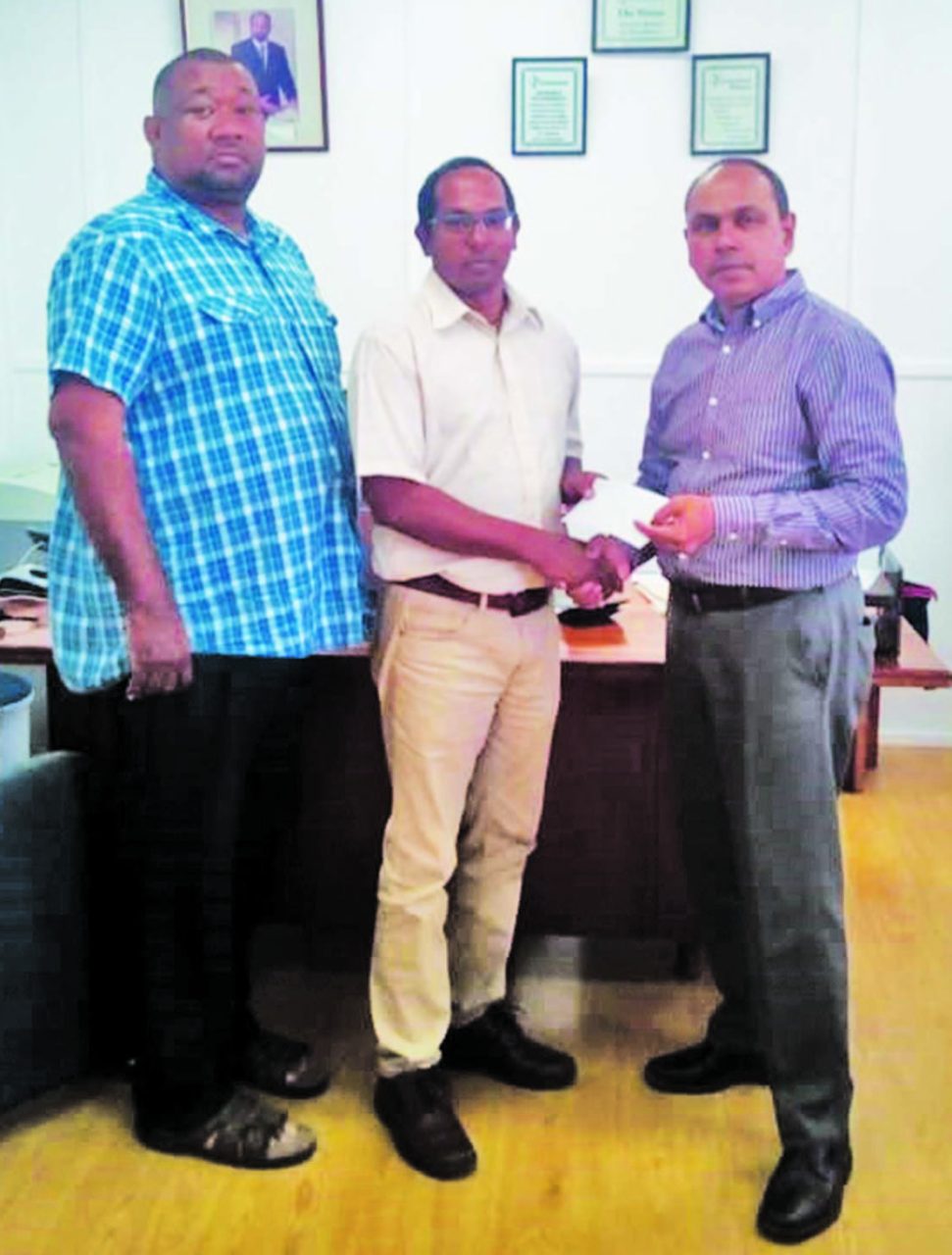 BCB President Hilbert Foster, who leads an aggressive marketing drive by Guyana's most active cricket board, launched the tournament in company of Treasurer Dr Cecil Beharry and sponsor Chandradat Chintamani of Laparkan Trading.
Chintamani, a nephew of Ivan Madray, is pumping $335,000 into the tournament which would feature the 11 First-Division teams in the Ancient County. The teams are West Berbice, Blairmont, Police, Tucber Park, Rose Hall Canje, Young Warriors, Albion, RHT Thunderbolt Flour, Port Mourant, Upper Corentyne and Skeldon.
The tournament would be played on a knockout basis and while the 2018 edition was played using the hundred-ball format, the 2019 edition would be played under the T20 format, with the finals played under lights at the Albion Ground. Foster disclosed that players like Shimron Hetmyer, Veerasammy Permaul, Romario Shepherd, Clinton Pestano, Nial Smith, Keon Joseph, Jonathan Foo, Kevlon Anderson, Alex Algoo, Devindra Bishoo, Kevin Umroa, Kevin Sinclair, Anthony Bramble, and Gudakesh Motie are expected to play in the tournament.
Foster expressed gratitude to Chintamani for his continued investment in the development of Berbice cricket and for his commitment to upholding the memory of his famous uncle, who in 1956 became the third Berbician to play Test cricket after John Trim and the legendary Rohan Kanhai. Madray was followed shortly afterward by Basil Butcher and Joseph Solomon as the historic Port Mourant Club produced the first five Test cricketers from Berbice. The BCB President reassured the sponsor that the tournament would be well-organised and all funds would be used for the intended purpose.
Chintamani expressed delight at once again teaming up with the BCB as he was satisfied with the organising of the 2018 edition of the Ivan Madray Memorial Tournament, and he expressed confidence that the relationship would be strengthened in the future. The Laparkan executive stated that his famous uncle played a major role in his early development, especially instilling the importance of discipline and education.
The sponsorship of the tournament, Chintamani stated, is to play homage to his role model, mentor, and hero. He praised the outstanding work of the BCB and urged it to always uphold its high standards. The tournament is expected to be completed by early December as the BCB strives to complete close to 30 tournaments in 2019 at all levels.
Meanwhile, the BCB on October 29, 2019 would be launching a two-day First- Division tournament with sponsorship from beverage giant Banks DIH Ltd. For over a decade, no two- or three-day tournament has been played in Berbice, and Foster had committed himself to correcting the situation before his term ended on December 31, 2019. The sponsorship deal worth over $2 million includes the running of an anti-suicide and anti-drug campaign.