A West Bank Berbice, Region Six (East Berbice-Corentyne) man was on Friday evening busted with over 35 kilograms of marijuana.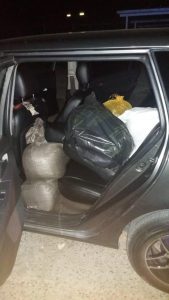 Reports are the 29-year-old man of Blairmont, West Bank Berbice, who was driving a black Toyota Fielder wagon was stopped during a mass patrol in the vicinity of D'Edward Village, West Bank Berbice at about 19:00h.
According to Police reports, the marijuana was unearthed during a search of the vehicle.
Following the discovery, the man was taken into custody.
He is being processed for court this week.