Vendors at the Mahaicony Market, Region Five (Mahaica-Berbice), are outraged over the conditions of the facilities at the market and are calling on the authorities to ensure the market is outfitted since they are paying for those facilities and services.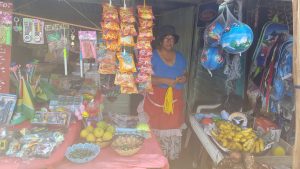 The vendors said the market lacks sanitary facilities and they are left to clean the spaces between their stalls themselves. They are saying that despite making several complaints to the Neighbourhood Democratic Council (NDC), action is yet to be taken and they are hoping that the Communities Ministry could intervene and remedy their situation.
On Saturday when Guyana Times visited the market, vendor Patricia Charles said she has been vending at the Mahaicony Market for over 23 years and the condition of the municipal facility continues to decline.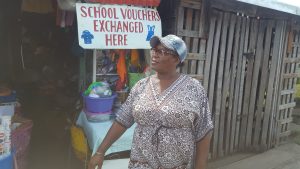 "The problem is that the Mahaicony Market don't have a toilet for the women them to use around here. We suffer a lot and we having people looking into certain things and they are not doing their jobs," she said.
"Every time we raise the problems with the NDC, them always promise to do something about it but for years them nah do nothing. I just want them to make sure that we get a toilet, especially for the woman them to use because we got to use the washroom during the day," Charles added.
Another vendor, Bibi Sookhoo, said she has been at the market for over 30 years and reiterated the need for a washroom facility. She said that there was once a washroom but due to the lack of maintenance on the part of the NDC, the washroom collapsed.
"We is woman and we need to have the washroom here. The market need it because we does have to do we business all over the place or sometimes we have to go back home to use the toilet. We really need to have the washroom here," she explained.
Sookhoo said stallholders are required to pay $100 per day to vend at the market and the cleaners would refuse to clean up the garbage as well as maintain the cleanliness of the area.
"The grass at the back of the stall is big and we does have to weed it by we self and then we does got to pick up the garbage. We does put the garbage in our garbage bag and then we got people from the road who does dump at the back and we does got to end up picking it up because them nah do nothing. We just fed up in this place," the woman related.
Additionally, the vendors stated that business in the area is far from desirable. They feel if the facilities are improved, then business would be improved. They are also calling on the NDC to place much more interest in the market since the revenue they generate is more than enough to execute the repairs.
Avril Abrams, 66, said over the 30 years she has been vending at the market, there has never been any substantial repairs to the facility. She said the standards of the market continue to decrease and persons at the NDC makes development even more difficult since they are very confrontational when approached.
"We does can't tell them nothing because everybody got some attitude and then we can't get nothing done. Right now we need them to do better and make this market more good than it was. We got to get the toilet and that is a start," she said.
The vendors are contemplating approaching the NDC a final time to make sure that their concerns are heard and if that approach fails, they are prepared to take it to the Communities Minister to have their concerns addressed. (Lakhram Bhagirat)