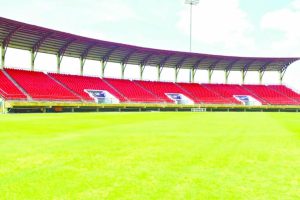 The Culture Youth and Sports Ministry has issued an invitation for bids from qualified and eligible bidders for the construction of stands at the Guyana National Stadium, Providence, East Bank Demerara.
The engineer's estimate for the duration of work is $350 million.
Interested and eligible bidders may obtain further information from the Procurement Unit, Ministry of Culture, Youth and Sport, Lot 71-72 Main and Quamina Streets. An inspection of the bidding document can be conducted at the above address between the hours of 08:30 am to 03:00 pm on weekdays.
The tender document may be purchased from the Ministry for a non-refundable fee of three thousand dollars ($3000) each and must be delivered to the address on or before 09:00h on Tuesday, May 16, 2023.
It was previously reported in September 2022, that significant upgrades were made to the National Stadium. This includes the refurbishment of the red, green, and orange stands, smoothening of the field, and restoring the washroom facilities.
Meanwhile, it was previously announced by President Dr Irfaan Ali that a stadium will also be built at Palmyra, East Canje Berbice.
According to the Head of State, this multipurpose facility would rival any international facility that is seen on television.
This Palmyra Stadium is slated to have a capacity of 10,000, and the Government of Guyana is partnering with several major players within the oil and gas industry for its construction. Notably, ExxonMobil will play a major role in this regard in the interest of the development of sports in Guyana.
Additionally, during an impromptu visit to Linden back in January, the Head of State revealed that a stadium would be built in the mining town.
According to Ali, "We are right now examining a number of sport facilities in Region 10, some of which we will upgrade. But, more importantly, in the medium term, we have to build a new stadium for you."
Linden is known to produce some of the country's most outstanding athletes, and has won the National Schools' Cycling, Swimming, and Track and Field Championships 19 times.
The new stadium would complement the $179 million synthetic track at the Bayroc Community Centre Ground in Wismar.