All roads will lead to Palm Court on Main Street Georgetown tonight for one of the most intriguing parties. Called "Black Swag, 2017- 50 Shades Darker", it is the ultimate birthday party of Sean Major out of Publik, and the night will be epic.
The event will, for the first time in Guyana, feature Trinidad and Tobago's young
soca sensation Orlando Octave, who goes by the name "D Original Rude Boy". Known for his singles "Disconnected" and "Darkie", he has also released two albums, "Riddim 868" and "Class".
Octave began singing when he was 3, and entered the Junior Soca Monarch competition when he was 11. Although he did not win, he joined his first tour shortly after. In 2012, he launched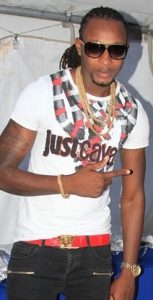 a brand of condoms called "Play Wit It".
Growing up in Rio Claro, Trinidad and Tobago, this rising star's first audience was his family. He now performs alongside Lyrikal, also out of the twin-island republic. Apart from D Original Rude Boy's live performance, several deejays will be in the house to make sure patrons have a grand time. These include Deejay Energy, Gully Ras, Selector Diamond and Blax B. Ladies who are dressed in black will be admitted free of charge, and there will be Heineken specials all night long. Lights and sounds will be provided by Cloud 9, when the action gets underway from 21:00h.