BCB 80th anniversary celebrations…
The Berbice Cricket Board (BCB) has continued its progressive movement on and off the cricket field. This progressive and positive attitude in development has rubbed off on cricket clubs in the Ancient County.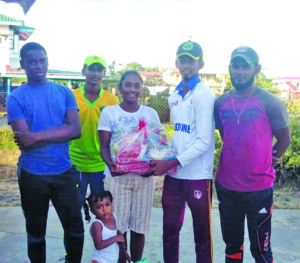 In observance of BCB's 80th anniversary, the Blairmont Community Centre Cricket Club assisted seven less fortunate individuals/families with food hampers. These hampers were presented to individuals from Blairmont, Shieldstown, D'Edward and Cotton Tree.
This programme was an outreach programme that was collaborated on with the BCB on its 80th anniversary celebrations. Among the sponsors are J&G Supermarket of D'Edward, 'Supa' Value of Bath, Greens Massive, and Right Choice Supermarket of Cotton Tree.
The 80th anniversary celebrations started with a presentation of a $20,000 bicycle to all Under-13 female cricketers in the Corriverton area while among the other activities were the Tribute to Heroes, television programme, a 256-page anniversary book, Berbice Greatest Cricketers, Tribute to Retired Cricketers, Hall of Fame for Cricketers, Administrators Hall of Fame, honouring of West Indies debutants, and producing a Youth Information Booklet.
Among the on-field events were the Trophy Stall Under-13 Cricket Tournament, Stag Beer 50-Over First Division Tournament, NBS 40-Over Second Division Tournament, Let's Bet Sports 100 Ball Tournament, UCCA Inter Secondary School Tournament, Somwaru Tribute Tournament and a four-page newspaper pullout.
The BCB also assisted 15 young players with over $300, 000 worth of cricket gear. Cricket clubs benefited from $400,000 worth of water pitchers while three educational competitions were organised for nursery, primary, and secondary students.
Some 80 less-fortunate students collected school bags while donations were made to several institutions including the Port Mourant Public Hospital; anniversary souvenir cups were distributed while clubs and players received scorebooks, bicycles, and cricket balls.
The main project was the upgrading of the BCB office, which is expected to be completed in late October. The main objective of the upgrading project is to improve the general service of the BCB to the general public and to cut back on operational expenses.
As the BCB celebrations progressed, the Dr Tulsi Dyal Singh Wall of Fame will also be unveiled on October 26 by Dr Singh, who would be visiting Berbice. The BCB was established in 1939 by two former West Indies players, LS Burkett and CR Browne, who hailed from Barbados and were employed as senior Managers at the Blairmont Estate.