In light of rice farmers losing over 6000 acres of rice on the Corentyne, the blame was thrown on a blocked canal in the area which is preventing the water from flowing freely into the rice fields.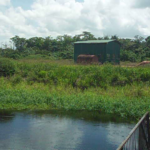 Heavy vegetation in the Manarbisi Main Canal is significantly impeding the flow of water to rice fields on the Corentyne.
Rice farmers who operate between Numbers 52 and 74 Villages and along villages adjacent to the Black Bush Polder have been accusing the regional administration of not supplying adequate water for their crops.
The farmers have claimed that the pump stations in Black Bush Polder and Manarbisi have not been operating to their full capacity and as such, irrigation water is not reaching far-flung villages.
However, Guyana Times has confirmed that both pumps at Manarbisi have been put into operation after the issue had been made public.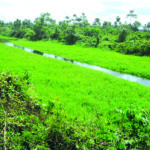 Guyana Rice Development Board (GRDB) Extension Officer Ramlakan Singh confirmed that the canal was blocked and as such, the farmers could not get access to the water that was needed.
"So, we need the relevant authorities – the NDIA [National Drainage and Irrigation Authority] or the regional administration to clean this canal immediately to save the rice," Singh said.
Persons who operate in the area related that the canal has not been cleared since early last year.
According to one source close to the regional administration, a contractor received payment for that project late last year, but nothing was done.
However, the source refused to divulge any information about the contractor out of fear of being victimised.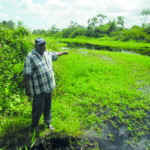 The canal is expected to supply water for nine miles from Numbers 52 to Number 74 Village including Number Nauth.
Sixteen thousand acres depend on the pumps for water, and already 6000 acres have been lost according to Regional Vice Chairman Dennis Deoroop who claims that more might be lost if immediate action is not taken.
Meanwhile, another pump station at Manarbisi with double the capacity needs slight altercations before use, but no attempts are being made to put it into use.