Ganja-trafficking boat collision…
Four persons are now dead and several have been arrested after a boat transporting marijuana collided with another vessel in the Upper Berbice River on Tuesday evening.
Dead are 37-year-old Kidman Lindie of Sand Hills, Berbice River; 23-year-old Romario Denheart, a surveyor attached to the Public Infrastructure Ministry and resident of Lot 41 Stanleytown, New Amsterdam; 60-year-old Godfrey Denheart, called 'Freeman', of Heathburn Village, East Bank Berbice; and 40-year-old Julian Mc Kenzie of Sand Hills, Berbice River.
Their bodies, recovered on Wednesday in the vicinity of Sand Hills, have since been taken to a private mortuary.
Reports are that the men were in a boat in the vicinity of Friendship Village on the Berbice River when another vessel, which was transporting a quantity of marijuana, crashed into their vessel and sped away.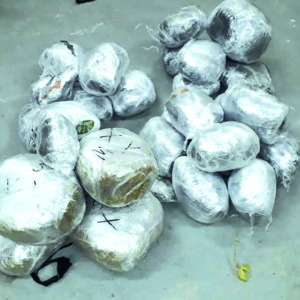 According to the Police, a 39-year-old fisherman of Sheet Anchor Village, East Canje Berbice was the captain of a 'ballahoo' – the marijuana transport boat – with four occupants on board when it collided with the wooden boat in which the quartet were travelling.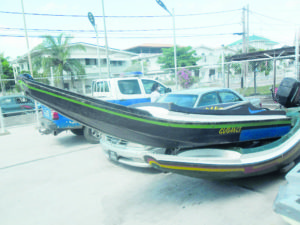 Police reports are that the 39-year-old man claimed he and his occupants were travelling along the river when he noticed a wooden boat approaching him and, as a consequence, he pulled eastward to avoid a collision; but at the same time, the other captain also pulled eastward, and the boats collided and capsized.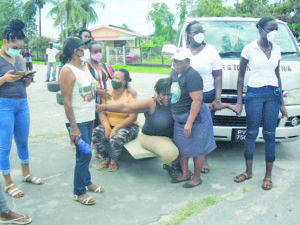 He claimed that he and his occupants re-entered their boat and fled the scene after they realised that the captain and occupants of the other vessel had failed to surface.
Police identified the occupants of the 'ballahoo' as a 20-year-old labourer of Maria Henrietta Village, Berbice River; a 51-year-old labourer of Adelphi Village, East Canje; and a 23-year-old labourer of No 2 Village, East Canje.
Ganja found
Meanwhile, based on information received in their investigations into the fatal crash, Police raided a house at Edinburgh Village, East Bank Berbice where 32 taped parcels of cannabis which, when weighed, amounted to 36.97 kilograms were found. Three persons were arrested at the house. A fourth person, who resides at Palmyra Village, East Coast Berbice, is being sought, Police said.
Meanwhile, this publication was told that the now-dead quartet were in a small boat travelling to Sand Hills at sometime after 19:00h when they were run over by a larger boat being powered by a 75-horsepower engine.
Villagers who rushed to the scene on Tuesday night reported that the small boat was broken into pieces.
All that was seen were the footwear of the four men and pieces on the broken boat.
This newspaper was told that Police reportedly had knowledge of the shipment of cannabis, and were staking out the traffickers.
Families devastated
Meanwhile, Denheart's mother, Paula Soloman, a corporal attached to the Constabulary Department of the New Amsterdam Municipality, explained that Freeman had gone to visit her on Monday, and had collected two of his sons to take them to see relatives at Sand Hills.
She said Romario and a 26-year-old elder brother had left with their father, and were expected back in one week. Romario, she said, had been making strides in life, and she was proud of him. He had been the surveyor heading his department when the East Bank Berbice Road Project was carried out between 2017 and 2019.
Meanwhile, Simone DeCunha explained that she had not seen her brother Julian Mc Kenzie for more than a year.
According to her, the father of two seldom visited relatives who had migrated to New Amsterdam. He also leaves to mourn 10 siblings.
As the search for the men was underway, anguished family members waited for hours in at the New Amsterdam Ferry Stelling and under the Canje Bridge, where it was expected that the police would arrive if they had located the men.
Lindie's sister Valery said she is still trying to understand what had occurred.
Meanwhile, the body of the elder Dinehart, a father of 12, is said to have marks of violence, suggesting that he was injured when the boats collided.
Police are continuing their investigations as they hunt for a fifth suspect.