GT Beer/ Petra Futsal Championships…
The group stage of the second GT Beer Petra Organised Futsal Championships got underway on Tuesday evening at the National Gymnasium with the top teams producing some thrilling matches.
Unlike the goal rush of the play-off rounds, the top Futsal teams produced master class performances in the close and exciting contests that had the once again massive crowd in a frenzy.
Arguably, the headline clash of the night, the battle between defending champions Bent Street and Broad Street Bullies lived up to expectation in terms of excitement despite ending in a 2-2 draw. Broad Street took the lead via a Keiron Solomon goal in the 3rd minute but Dwight Peters was not to be outdone and produced the equalizer three minutes later.
As the high intensity battle continued, the additional goals only came late in the second half when Jamal Cozier gave the Bullies the lead once more in the 23rd but yet again it was only for a short time as Collin Neslon leveled the scores in the 29th.
Meanwhile in other matches of the night, Sparta Boss managed to hold-off a sprightful Agricola Champion Boys via a Devon Millington goal in the 20th minute.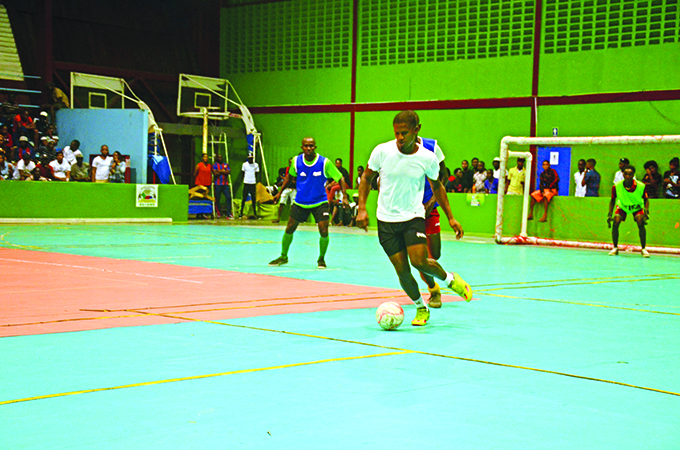 Likewise, West Front road defeated West Back Road 3-0 on the back of goals by Jamal Pedro (11th), Roy Cassou (12th) and Carl Tudor (22nd).
Tiger Bay and Back Circle also produced a 2-2 draw, as Sylvester Richardson and Stephon McLean netted in the 14th and 26th minute respectively for Back Circle while Alpha Fletchman (15th) and Deon Alfred (30th) for the opposition.
Sophia were clinical against Albouystown winning 4-0, with Dwayne Lowe (5th and 16th), Sheik Kamal (6th) and Desmond Cottam (12th) netting in the assault.
North East La Penitence were also on the winning side, edging Tucville 2-1 due to a double Omallo Williams who netted in the 17th and 27 while Dennis Edwards scored in the 9th for Tucville.
Upon the conclusion of the round-robin stage, the top two finishers and the best two third ranked teams from the respective groups will progress to the quarterfinal phase.
The winner of the tournament is set to pocket $400,000 and the championship trophy while the second, third and fourth place finishers will collect $200,000, $100,000 and $50,000 respectively and the correspondingly accolade.
The event will continue at the same venue on Saturday with six more group matches.