Days after a Norton Street, Lodge businessman was arrested for narcotics found on his premises, the Customs Anti-Narcotics Unit (CANU) has rejected the circulation of a misleading video and false allegations in relation to an arrest.
On Wednesday, Kirk Browne aka "Coca Tea" of Lot 45 Norton Street, Lodge, Georgetown, was taken into custody after the suspected marijuana was found at his residence.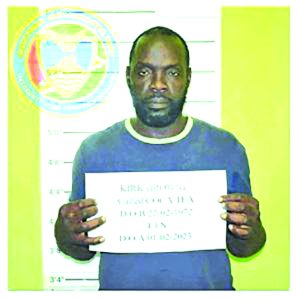 CANU contended that on the day in question, officers acting on information and surveillance, conducted a narcotics operation in the area of Norton Street, Lodge.
A male of African descent was observed entering Lot 45 Norton Street, Lodge, Georgetown, with a large salt bag. CANU officers pursued the said male, who made good his escape.
Upon searching the immediate surroundings of the said address, a salt bag marked "Big Man" was observed by the officers. Two males and one minor, who was in the surrounding area of Lot 45 Norton Street at the said time, were escorted to CANU Headquarters to assist with investigations.
One of the said males was Kirk Browne. Browne was lawfully held by CANU pending investigations.
"To date, the investigation is ongoing and we seek the assistance of the public in providing any information in relation to the matter," the Unit stated.
Initial reports are that the unearthed parcels of cannabis were weighed and amounted to 42 pounds, which has a street value of $5.9 million.