– expected to be arraigned with several counts of trafficking in narcotics, conspiracy
Self-confessed drug trafficker, Barry Dataram, who was arrested by Federal Agents at the John F Kennedy International Airport upon his arrival in the United States last week is expected to be slapped with several counts of a trafficking in narcotics charge.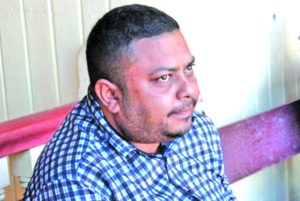 The 45-year-old man is presently being held at the Brooklyn Metropolitan Detention Centre. The US had issued arrest warrants as well as an extradition warrant for Dataram back in 2008 for drug trafficking.
Court documents seen by Guyana Times revealed that between February 2001 and December 2003, Dataram, also known as "Kevin," "Ledge" and "Fat Man," together with others, trafficked five kilograms or more of cocaine into the US.
In addition, between February 2001 and December 2003, Dataram together with others, knowingly and intentionally conspired to possess and distribute five kilograms of cocaine in the US.
Further, he was also accused of trafficking over five kilograms of cocaine into the United States between April and June 2003. Other allegations included conspiracy to traffic narcotics into the US, attempting to avoid detection, and responsibility for the offence of trafficking at least 150 kilograms of cocaine
Dataram was also accused of being the leader of a drug trafficking ring that involved five or more persons.
However, Dataram and his wife Anjanie Boodnarine absconded Guyana one day before a court ruling in connection with a drug possession charge. An arrest warrant was issued for them. It was believed that Dataram and his wife entered Suriname through a backtrack route.
Dataram was sentenced to 60 months' imprisonment and fined $164 million in absentia after he was found guilty of being in possession of 129.230 kilograms of cocaine on April 16, 2015 at his Lot 661 Silver Dam, Fourth Avenue Diamond Housing Scheme, East Bank Demerara home.
His reputed wife, Kevin Charran and Trevor Gouveia were all freed on the drug charge.
It was reported back in 2016 that the Guyana Police Force was contacted by its Surinamese counterparts, shortly after Dataram and his wife were nabbed. One day after their apprehension, they were handed over to the Customs Anti-Narcotics Unit (CANU) and members of the Guyana Police Force.
It was believed that the couple entered Suriname with false travel documents. The documents, however, seemed authentic since they were reportedly issued by the Chief Immigration Office in Georgetown.
Dataram used a passport with the name "David Persaud". The passport was issued on April 15, 2013, and bears the number R0376916. Dates also suggested that the passport would expire in 2018. On the other hand, Boodnarine entered Suriname under the name "Christine Persaud". Information on the passport stated that it was issued in January 2016 while Boodnarine was on trial for the possession of narcotics.
The duo was initially arrested after CANU ranks swooped down on the EBD home. During the search, the ranks unearthed the cocaine.
It was reported that some of the cocaine was stuffed in frozen seafood, while the remainder was found to be bricks of raw cocaine. CANU ranks also seized an undisclosed sum of money.
In March, Dataram during a television interview admitted his involvement in the drug trade but added that he had never been convicted for a criminal charge.
He was arrested several times but has escaped the clutches of United States law enforcement after an extradition attempt failed.
Dataram also accused a high-ranking CANU official of being involved in the drug trade and added that the rank would take as much as $10 million to allow cocaine to leave the country.
Following the revelation, head of the drug enforcement unit, James Singh had denied the allegation made against his staff while noting that CANU welcomes further public confessions of criminal elements.