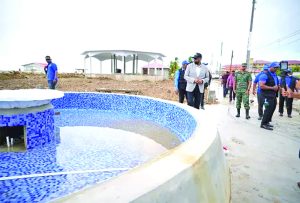 Residents of Skeldon and surrounding areas can expect to benefit from a conducive space where they can relax, enjoy nature, and bond with their families, friends, and other members of the community, with the completion of the 'Green Space' later this year.
The initiative is being executed through the Office of the First Lady and the Public Works Ministry at the Skeldon waterfront and will offer persons the opportunity to connect with each other through increased quality time.
President, Dr Mohamed Irfaan Ali said on Friday morning during a visit to the location, "As you can see, there is a more modern-looking style overlooking the water, there's a utility building, there's a huge fountain area, there's a play area for kids, and the entire lawns will be manicured. We have seating accommodations for children and families out on the water.
"So, if you know what is happening in Windsor Forest, it's a very simple project, but thousands of families, hundreds of children every single day go out there. And this is important in building communities, building stronger families, bringing people together and creating that environment and that atmosphere in which cohesion, wellness, mental health—all can be addressed through these initiatives."
He reminded that previously, the Skeldon waterfront site had been filled with the unwanted waste, but through the beautification project, that waste has been removed, and the space was enhanced to improve the landscape.
"So, this is one. I just wanted to give an update. It will be well-lit, it will have adequate security, and this will no doubt enhance the entire area, and create another public space for children and families, and the community to enjoy," Dr Ali stated.
He expressed his pleasure with the work being done at Skeldon, and noted that this and multiple other beautification projects are being completed through the involvement of the Men on Mission (MoM).
In October, First Lady Arya Ali officially launched the Skeldon beautification project, and a second in New Amsterdam, Region Six. The two projects cost $100 million each.
The overall aim is to establish family-friendly recreational spaces in every region.