The Childcare and Protection Agency (CPA) is urging Day Care Service providers to get their facilities registered by March or face closure.
Head of the CPA, Ann Greene, said persons who are desirous of registering their Day Care Facility must possess a valid Police Clearance and Food Handlers Certificate. She added that the facilities will be inspected by the Fire Department, The Central Housing and Planning Authority (CH&PA), and the Ministry of Public Health for safety standards' compliance.
According to the director, the CPA is working to tighten its grip on illegal Day Care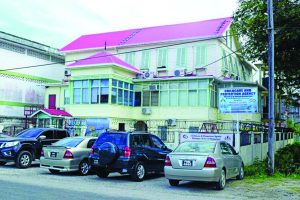 practices, and will be enforcing strict measures and inspections of every Day Care Facility, to ensure compliance.
"This year, we are planning to get all the existing Day Care Facilities licensed. They must be licensed, they must take the time to go and get themselves in order. We are granting the licences, but they must go out and get themselves in order," Director Greene is quoted by the Department of Public Information as saying.
The director further mentioned that the agency saw a large turnout of persons for the Day Care Training programme offered last year. She emphasised that day care services is a developing business countrywide and it is important for persons to get serious and ensure their businesses get registered.
More than 130 Day Care Facilities were registered in 2018 under the Ministry of Social Protection's Early Childhood Development Programme, which aims to monitor and improve Day Care Facilities.
On January 3 last, Guyana Times reported that of 337 day care and playschool facilities found across the country, a mere 131 possessed the required licences, leaving a whopping 206 of these institutions unlicensed. This information was gathered from the CCPA's Year-in-Review posted on the Agency's social media page.
According to statistics provided by the department, three day-care centres were found in Region One (Barima-Waini) with none of those being licensed or registered. Over in Region Two (Pomeroon-Supenaam), 18 facilities were found, with all of those being registered and licensed. In Region Three (Essequibo Islands-West Demerara), 48 playschools were found, of which 33 were registered but only 20 were licensed. Region Four (Demerara-Mahaica) had the highest number of playschools found, which stood at 184; however, 160 of those were registered and only 41 had the necessary licences. In Region Five (Mahaica-Berbice), 15 day care centres were found, 13 were registered while five possessed licences. Regions Seven (Cuyuni-Mazaruni), Eight (Potaro-Siparuni) and Nine (Upper Takutu-Upper Essequibo) had three, one and three day cares respectively; none of which was licensed or registered. However, in Region 10 (Upper Demerara-Berbice) 28 playschools were found, 26 were registered, while 19 were licensed.
According to a senior official at the CCPA, playschools and day care centres can be registered but not licensed, as the licensing process is a lengthy one.
It was explained that for such entities to be licensed, they must undergo a series of inspections by the Public Health Ministry, the Guyana Fire Service, the Central Housing and Planning Authority (CH&PA), and a number of other agencies. Along with this, a high number of paperwork also has to be sorted out before those businesses can be licensed.
According to the official, the CCPA arm of the Social Protection Ministry would be assisting those businesses in becoming fully compliant with the standards as required of them. The CCPA will be guiding those businesses along the way as they seek to have all the facilities licensed by the end of 2019.
When asked if the required licence would pose any major threat or issue if not possessed, the negative was given as a response. Guyana Times was told by the senior official that if a child is injured at any of the unlicensed day care centres, the business owners would be held responsible.
"They would still be under our supervision, so whether they licensed or not, if anything happens to the children, they would have to take responsibility. They have to operate at the minimum standard, so it's just the paperwork is the problem to get, but they have to maintain the minimum standard," the official stated.
The official added that the CCPA will continue to work with those businesses to achieve the target of 100 per cent licensing by the end of this year.
In September of last year, Executive Officer of Early Childhood Development, Lavern Thorne, during an interview with Guyana Times, had said that as a result of a number of interventions made over time, the CCPA has been able to up the standards of day-care facilities across the country, which were previously below standard.
Some of the works that were done to those centres include rehabilitation to the buildings, proper play spaces and materials, trained and qualified staff, among others.