Residents in Werk-en-Rust, Georgetown are fuming over sewage which runs into their yards as a result of a nearby hotel affecting the sewerage system.
Concerned citizens in the area on Wednesday complained bitterly of not being able to use their washroom facilities as they please, owing to condoms and even sanitary napkins blocking up their systems.
One resident, who gave her name only as Tashana, said residents in the area were quite fed up of the situation and did not know who to turn to for help. According to her, the said sewage keeps seeping into her yard.
The woman, whose home is on Princes Street, Georgetown, said that she has been trying to put up with the situation for about one year now, bu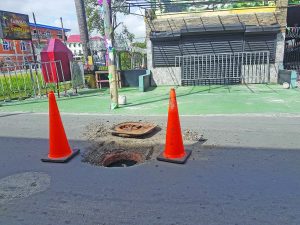 t it has landed her four-year-old son in the hospital already.
Tashana even noted that she too fell sick for four months and was off of her job, as
a result of the unpleasant fumes and materials that end up in her yard.
"The sewage is overflowing for about a year now. Sometimes people come and they pump it out… (but) for about three months or so, I have stuff running through my yard," the resident said.
According to her, every time she makes a complaint about the issue, she is made to wait two to three months while being told "we're working on it" before the authorities clean the sewage. The horrific situation would somehow reoccur in only about a week's time, causing her to have to wait again before it can be addressed.
The frustrated woman said her mother, who is a pensioner, lives with her and is often times forced to stay indoors given the situation. "That lady old and she needs exercise, she can't even take a walk in her own yard because of this nonsense," she argued. "I even called them before Christmas and say it's Christmas time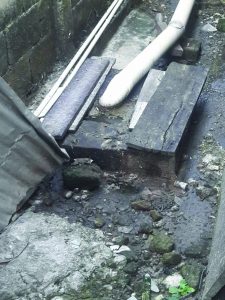 coming could you just see how it can be cleaned, because I can't even flush my toilet. I can't even have people over because of the stench and stuff in my yard. All I'm ever told is sorry for the inconvenience," the woman added.
The resident said that the Guyana Water Inc (GWI) usually handled the situation, so she has never made a complaint to the Mayor and City Council. She, however, said that GWI officials were in the area and warned the hotel owners about the issue.
When Guyana Times visited the area on Wednesday morning, manholes were seen open in the quite smelly location, in an attempt to provide some relief to the residents.