The perverting the course of justice charges that were levelled against Attorney Chandra Sohan were on Thursday dismissed by Magistrate Alex Moore in the New Amsterdam Magistrate's Court.
Sohan was represented by Attorneys Sanjeev Datadin, Mursalene Bacchus, Ryan Crawford, Arundranauth Gossai and Horatio Edmondson.
Sohan was charged with perverting the court of justice whereby it was alleged that he told Zubair Ally, a witness in the murder trial against Marcus Bisram and others, to change his story.
The body of Faiyaz Narindat was discovered in the wee hours of the morning of October 1, 2016, on the Corentyne Highway at Number 70 Village.
It is believed that he was killed elsewhere and his body placed on the roadway to make it appeared as if he was the victim of an accident.
Five men have been committed to stand trial in the High Court for the murder of Narinedat. The alleged mastermind, Marcus Bisram, recently lost a bid in a US court to be extradited to stand trial for the murder.
Meanwhile, the case against Sohan collapsed when Defence Counsel Sanjeev Datadin exposed in cross-examination that the witness (Ally) said exactly what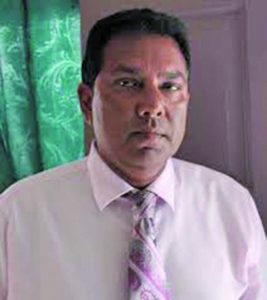 was in his Police statement.
Ally had given the Police several statements. Initially, he said he had no knowledge of what transpired on October 1, 2016. However after he was arrested, he gave five different statements.
When Ally was preparing to give evidence at the Preliminary Inquiry before Magistrate Rabindranauth Singh at the Springlands Magistrate's Court, it was alleged that Sohan told him what to say.
However, during Sohan's trial, it became apparent from cross-examination that the first statement Ally gave to the Police was exactly what he said in evidence at the Preliminary Inquiry.
In submissions made to the Magistrate at the close of the prosecution's case; the defence team alleged that there was no evidence that pointed to any wrongdoing on the part of Sohan.
Datadin said it was clear that Ally made a statement to the Police in the very beginning of the investigation that corresponded exactly with his evidence before the Magistrate. Bacchus entered a no case submission which the court upheld.
The case was presented by Inspector Bernard Brown, who called six witnesses; all Police Officers from the Major Crime Unit.