Following a four-hour deliberation, a mixed jury returned the guilty verdict against two men who were accused of murdering a security guard at a Mandir in Berbice.
The duo – Shivnarine Jainarine of Train Line Dam, Port Mourant, Corentyne; and Ryan Persaud, also called "KK", 17, of Williamsburg, murdered Jagdat Ramcharran, called "Ronald", 61; a security guard of Bloomfield, Corentyne between January 6 and 7, 2013.
A third suspect, Kerwin Hintzen, had earlier pleaded guilty to the heinous crime and given a 20-year sentence.
State Prosecutor Mandel Moore during the trial stated the trio murdered the security guard during the commissioning of a robbery. The man's body was found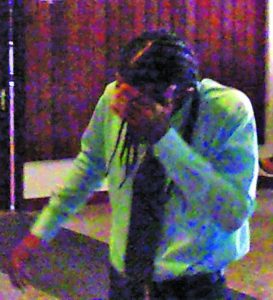 bound and gagged at the Iskcon Hari Krishna Mandir at Block 6 Williamsburg, Corentyne, Berbice.
During the trial which started on October 1, the prosecution called 12 witnesses. The lengthy trial was over shadowed by a voir dire which took weeks.
It was to determine the admissibility of caution statements given by the two suspects. The trial was heard by Justice Priya Sewnarine-Beharry, while Attorney Mursalene Bacchus represented Jainarine and Attorney Arudranauth Gossai represented Persaud.
Among those who were called to the witness stand were Magistrate Sherdell Isaacs who conducted the Preliminary Inquiry (PI) and committed the trio to stand trial to the High Court.
In his opening address, Moore told the court that Ramcharran was a watchman at the Mandir when the two men and others broke and entered the place of worship and in the course of committing a burglary, murdered the victim.
A bell, two golden murti, a pair of slippers and a tape recorder were missing and the entire building was ransacked. The bandits had reportedly cut open a grill on a window to gain entry to the building.
The security guard's body was discovered around 03:00h by a worshipper who visited the temple for his early morning worship. When he arrived, no one came to greet him and the gate was locked.
After making several calls and getting no response, the worshipper scaled the fence and to his horror, found the watchman lying on the ground. Government Pathologist, Dr Vivakanand Bridgemohan gave the cause of death as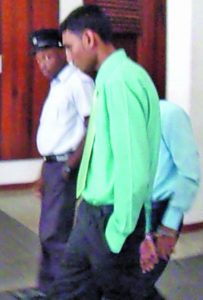 strangulation. Ramcharran's head was also bashed in.
Both accused told the court that they were beaten to sign caution statements. Police witnesses during the trial said there were video and audio recordings of those caution statements. Persaud said he was beaten four times.
He also told the court that after he was remanded to prison, he was taken to the Mibicuri Police Station and locked up for several days in an effort to prevent prison authorises seeing the injuries he received as a result of the beating.
However, one Police witness told the court that there was no evidence available to the police to indicate that Persaud made those utterances to the Magistrate during the PI.
In a mitigating plea, Attorney Bacchus asked the court to take into consideration the age of Jainarine who was 16 when the murder was committed. Attorney Gossai asked for a probation report.
The trial Judge proponed sentencing until November 29 when the probation report is expected to be presented to the court.