The story of Berbice all-rounder Leon Swamy
By Brandon Corlette
Guyana has, of recent, been gifted with fast bowlers, and Berbice has been responsible for producing the cream of the crop.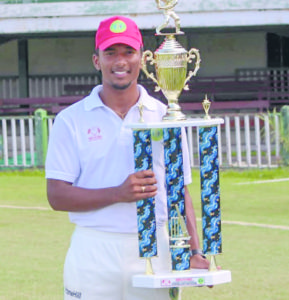 The likes of Keon Joseph, Clinton Pestano, and Tucber Park duo Romario Shepherd and Nial Smith are among those products. Next in line is the Guyana Under-19 fast-bowling all-rounder Leon Swamy, who had impressed in junior colours.
The COVID-19 pandemic has currently halted cricket not just locally, but almost globally when Swamy, a lad from Tucber Park in New Amsterdam, has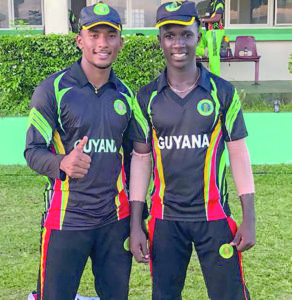 anticipated a strong finish in his final year of Under-19 cricket; but, undaunted, Swamy has now also set his sights on playing for the Guyana senior set-up, and is working hard to achieve his dream.
Swamy rocked the Guyana colours in St Vincent and the Grenadines in 2019, and in his recent interview with this daily publication, reflected on that tournament and peeked into his future.
Like most promising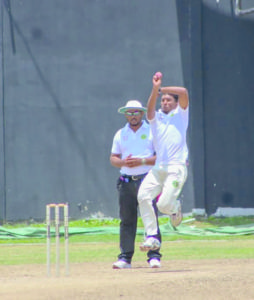 youngsters, Swamy has set sight on the Guyanese dream: playing for Guyana at the senior level.
Swamy on Regional U-19 experience
"The experience was okay. Playing for Guyana was something I always wanted to do; opening the new ball for Guyana is something I am grateful for; and picking up the big wicket of West Indies Youth Captain Kimani Melius was something I am thankful for and excited about," Swamy disclosed.
Playing against champions Barbados in that tournament, Swamy had tested the batsmen with his spell of 2-20.
"I have learnt a lot from the older guys and the coaches, and I will always be thankful for this experience, while looking forward for more," Swamy posited.
Sturdy and athletic, Swamy is still looking forward to a bright future when he plays his final year of junior cricket.
Finishing on a high
Swamy disclosed that he is aiming to finish his junior cricket in a strong fashion.
"In the inter-county level, I want to do my best, to give it 110% in both batting and bowling. I will try to come out with the most runs and most wickets, and to be the best (that) I can be."
Eligible to play in the next Regional U-19 tournament, Swamy is aiming to represent Guyana with finesse.
"I would like to put all my hard work and skills into this tournament, and emerge on top while helping my team to win. And after (that), I would like to play for Guyana at the senior level."
This youngster, who will turn 19 in November, has been working on his fitness despite the off-season.
"I want to keep working hard, stay focused, and keep praising God. When I have the opportunity to go out and play, I would like to go out there and give it 110%," he confessed.
It has been a challenging road for Swamy. In his final year at Under-17 level, a few years ago, he failed to make the Berbice U-17 team, but pushed his way into the Berbice U-19 team, and further gained a place in the Guyana U-17 Team.
Staying fit during COVID-19
Swamy has been working tremendously hard during the lockdown, while staying at home and obeying all measures against this pandemic.
"It has been a challenge. You can't really have pitch practice and so on, but I have been doing my personal training at home. I have my personal gym set-up, and my dad has been pushing me daily; so when the cricket starts back, I know I would be fit and ready," Swamy explained.
A fitness enthusiast, Swamy is calling for athletes to keep working hard on their game, while staying fit and practising all safety measures against this pandemic.