A 49-year-old boatbuilder is currently in Police custody after he was found with an illegal shotgun at his Jacklow, Upper Pomeroon River, Region Two (Pomeroon-Supenaam) home on Monday.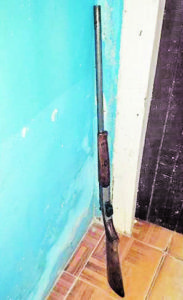 Police acting on information went to the man's home and conducted a search during which the firearm, matching ammunition and drugs were unearthed.
The 12-gauge single-barrel shotgun was found behind a four-burner gas stove.
When questioned, the suspect revealed to lawmen that the gun belonged to him and he did not have the necessary documents. He was immediately arrested as Police continue their investigations.