A chemical spill at the Guyana National Industrial Corporation (GNIC) wharf on Lombard Street, Georgetown, Wednesday morning forced a temporary shutdown of the facility.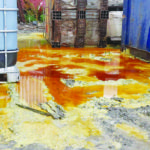 In updating the media on the issue, the GNIC said that the spilt substance is "Rheduce", a chemical which is non-hazardous, non-toxic and harmless to human and marine life.
Rheduce is used as a thinner and conditioner in the RHELIANT thermally-stable, flat-rheology drilling fluid system. It works to disperse solids in the mud without requiring dilution or changing the synthetic-to-water ratio.
Meanwhile, GNIC explained that the container containing the substance was ruptured on Tuesday during the handling of cargo at the facility's terminal. This resulted in the chemical leaking and accumulating in an area around the container; however, as a result of the delay in the clean-up and rainfall, the substance spread.
Sighting the spread, the facility's terminal was closed.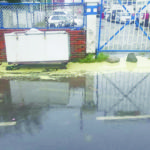 "The chemical, which is non-hazardous, non-toxic and harmless to human and marine life, was stored in a designated area. It leaked but accumulated in a small area around the said container. The response action to mop up the substance was awaited. However, the rain came and caused a spread of the substance. There was a panic reaction by customs, resulting in the closure of the terminal," GNIC noted in a statement.
Risk assessments
Nevertheless, a team was deployed from the Civil Defence Commission (CDC), the Environmental Protection Agency (EPA), and other agencies to conduct risk assessments and execute the appropriate response, which later led to the clean-up and decontamination of the area.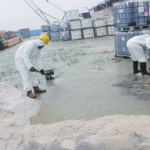 Meanwhile, Head of CDC, Kester Craig, said that from the assessment, which was conducted in and around the vicinity of GNIC, it was confirmed that a chemical spill occurred between late Tuesday evening and Wednesday morning.