In his analysis on Guyana's geopolitical state and its security, United States analyst and author, Dr Evan Ellis, has documented the fact that persons have complained about the Special Organised Crime Unit (SOCU) and its witch hunt against People's Progressive Party members.
According to Ellis, in his publication Journals of America, 3rd edition, SOCU was originally formed as one of the highest-profile elements of the Guyana Police Force (GPF) to investigate persons who were flagged by the Financial Intelligence Unit (FIU).
"SOCU has been criticised, however (particularly by the PPP), for focusing its investigations almost entirely on senior PPP-affiliated functionaries of the previous Government and their business partners without, to date, producing any convictions," Dr Ellis said.
He cited the March 2017 detention of senior People's Progressive Party (PPP) officials, including Opposition Leader Bharrat Jagdeo, former Head of the Presidential Secretariat, Dr Roger Luncheon, and former Natural Resources Minister Robert Persaud, all with the media present.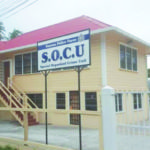 "Those more sympathetic to SOCU would say the focus was driven by (allegations of corruption), and that the reason for the lack of convictions has been the inability or unwillingness of the Director of Public Prosecution (chambers) to take cases forward".
Ellis, a research professor and author at the Institute of Strategic Studies of the US Army War College, stated that SOCU is supposed to be supported by the FIU, which is tasked with monitoring financial transactions and flagging any suspicious ones. However, Ellis observed that there have been complaints that the work of the two agencies overlap.
"Operationally, while the work of the FIU under the current Government is well regarded, some complain that its work sometimes overlaps with the SOCU and that it focuses too heavily on politicians who are presumed to receive payoffs or otherwise benefit from illicit activities rather than the criminal leaders who actually conduct them," Ellis added.
Guyana is slated to be evaluated in 2022 by the Caribbean Financial Action Task Force (CFATF) and FATF. It will be the fourth round of evaluations, with Guyana having been removed from the global watch list in 2016.
The state of SOCU, Guyana's main money-laundering investigation arm, has been a source of concern, however, ever since the information came to light that a probe into the unit being conducted by the Guyana Police Force (GPF) had unearthed irregularities that included falsified records and missing documents.
According to reports, there was even a case of an official who alleged that his signature was forged. In addition, there are reports of listed expenditure being concocted and receipts being backdated.
In the fal out from this case, then Head of SOCU, Assistant Commissioner Sydney James, was forced to proceed on administrative leave while investigations were carried out. Althea Padmore consequently took over.
Sections of the media recently quoted Public Security Minister Khemraj Ramjattan as saying that James would not be coming back. In addition, the Police recently reopened further investigations into him after advice from the Director of Public Prosecutions (DPP). However, James' absence has done little to help secure convictions for the beleaguered agency.