The Leonora Synthetic Track was on fire with some electrifying performances as Guyana's Cricket Carnival kicked off on Friday evening. The show, which got underway just after 22:00h, saw a sizable crowd enjoying themselves to the sound of Chutney music being dished out from both Guyanese and Trinidadian performers.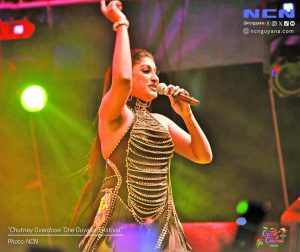 Setting the tone for a fantastic evening were Deejay Sheik, Anthrax and Golden Chyld, who dished out tunes upon tunes, much to the delight of the audience.
Making way for the first performer of the evening were the members of the Feel the Beat Tassa Group, who did not disappoint. Guyana's Chutney Queen, Vanita Willie, then appeared on stage and dished out several of her popular songs including "Poowah" and "Live in Harmony". She was followed by Elsa Lisa from Berbice.
Artie out of Trinidad and Tobago created some waves with her energetic performance followed by De Hitman, who is no stranger to Guyana and chutney music. He entertained to the fullest, even calling a member of the audience on stage during his performance.
Then, a veteran in the chutney industry, Adhesh Samaroo took to the stage by dishing out some of his 'old time' tunes. Leaving no stone unturned was the most toured Guyanese duo – Tony Cuttz and Vacadi Singh. Cuttz dished out his most recent tune, "One More Try" while Vacadi sang his latest single, "Gone Away". They also performed some of their other hits which have been creating some vibes in Guyana, the Caribbean, and further afield.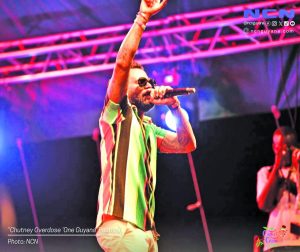 Saleem Beharry also known as "Master Saleem" made a grand entrance on stage and he too did not disappoint his fans. But the lady of the evening was definitely the queen of Chutney of the Caribbean, Savita Singh.
She rocked the stadium with her performance, which sent the crown into a frenzy. The headline act of the evening was formed by Chutney King, Kris Persad popularly known as KI. No doubt, his performance was as expected, with some good party vibes and he interacted with and engaged the audience to the fullest.
During the show, Emcee, WR Reaz paid tribute to Rene Ramnarine – brother of Trinidadian superstar, Raymond Ramnarine who recently passed away. In addition, Raymond Ramnarine who was supposed to be the featured performer in a video message expressed his apology for not being able to perform due to the death of his brother.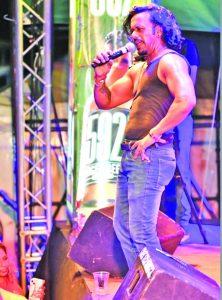 Meanwhile, Cricket Carnival continued with the "One Guyana" Concert at the National Stadium on Saturday evening, which featured strictly Guyanese artistes in various genres of music.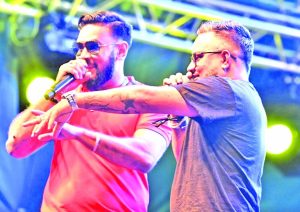 These included Timeka Marshall, Natural Black, Alabama, Jackie Jaxx, Vanilla, Bill Rogers, Lil Million, Vicadi Singh, Bunty Singh, Tony Cuttz, Sonia Singh, Diana Chapman, Kevin Singh, First Born, Big Red, CKush, Gully Ras, and many others.