Twenty-two-year-old Vishnu Mangal, an engineer of Surat Drive, Triumph, East Coast Demerara (ECD), was slapped with a malicious damage to property charge.
He pleaded not guilty to the charge when he appeared at the Sparendaam Magistrates' Courts. Police stated that on April 23, he broke the mirrors and lights of a car belonging to Romario Peters.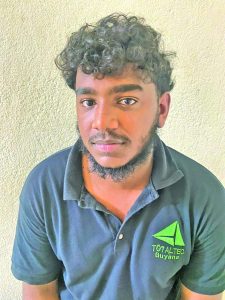 As such, Mangal was granted bail in the sum of $40,000 by Magistrate Ruschelle Liverpool and was instructed to return to court on May 29.
The prosecution's short facts detailed that Mangal and Peters are known to each other. In fact, Peters's girlfriend and Mangal are currently renting a house at Atlantic Ville, ECD.
On the day in question, Peters went to visit his girlfriend with his motor car, PMM 793, which he had parked in front of the gate. At around 20:30h, Mangal came home, saw Peters at the house, got annoyed, armed himself with a crescent, and ran him out of the house.
Peters managed to escape and hid in a neighbour's yard. Mangal then went in search of Peters and when he could not locate him, he broke the lights and mirrors of the car with the crescent.
In addition, he damaged the car's bonnet and rear door in the presence of his girlfriend. Mangal then left the scene and Peters reported the matter to the Police.
When questioned by Police, Mangal only admitted to damaging the car's mirrors.