Police are currently investigating the attempted execution committed on 42-year-old Police Prosecutor Heamchand Sukhnal, whose minibus was shot at.
The alleged shooting incident occurred in the vicinity of Conversation Tree along the Rupert Craig Highway at about 20:06h.
According to reports, the Police Corporal, who resides at Craig on the East Bank of Demerara (EBD), was on his way to work in his RZ minibus, PHH 6880, when gunmen opened fire.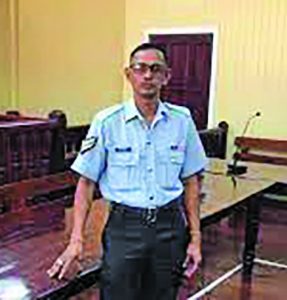 Police stated that as the Policeman turned onto Rupert Craig Highway from the traffic light at Sheriff Street, he noticed a dark-coloured Premio motor car pull up alongside him.
The prosecutor reported seeing the driver and another male sitting in the car's front passenger seat, and the driver started shouting and pointing at him, although he could not understand what was being said.
Despite feeling uneasy about the situation, the prosecutor continued driving. However, while at the traffic light at Rupert Craig and Conversation Tree, he heard a loud explosion that sounded like a gunshot.
The bullet reportedly hit the driver's door, thus causing the glass to shatter and result in a minor laceration to his left ankle.
The gunmen fled the scene at high speed, heading east on Rupert Craig Highway.
A team of CID ranks was immediately dispatched to process the scene, and after conducting their initial investigation, a warhead was recovered from the door of the minibus.
Additionally, one 9mm spent shell was discovered on the northern carriageway of the Rupert Craig Highway in the vicinity of Conversation Tree.
This is the second attempt made on the prosecutor's life, with the previous attempt occurring in November 2021 when gunmen had opened fire on his East Bank Demerara home, leaving his family fearful for their lives.
At the time, Police had suspected that the gun attack might have stemmed from one of the cases he had prosecuted, but it remains unclear if anyone was arrested for the previous incident. Meanwhile, investigations into the recent shooting incident continue.