Cattle rustling has been a longstanding issue in many parts of Guyana, with farmers in various communities expressing their concern about the prevalence of this crime.
In response to this, the Commissioner of Police (ag), Clifton Hicken, has committed to building partnerships and fostering better relations between the Police and members of the public to tackle the issue.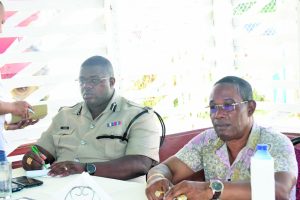 In a recent meeting held at the Mahaicony Police Station compound, Commissioner Hicken met and interacted with scores of cattle farmers from Mahaicony to discuss several issues and concerns affecting their livelihood and plaguing their community.
The meeting addressed issues such as cattle rustling, farming, and other pertinent matters.
During the meeting, residents shared their concerns about the prevalence of cattle rustling and the need to apprehend the perpetrator(s) and bring them to justice.
The Commissioner listened to their concerns and immediately instructed the establishment of Community Policing Groups (CPGs) to work along with Police ranks within the Division to mitigate cattle rustling and other crimes in the community.
Furthermore, Hicken assured the residents that there would be a heightened Police presence in the area, which would allow them to conduct their business in a comfortable environment. He also pledged to seek the intervention of the Commander wherever there are reports of any kind, in order to have those reports addressed.
The meeting was attended by Commander, Regional Division 5, Assistant Commissioner Kurleigh Simon; Officer-in-Charge, Mahaicony Police Station, Assistant Superintendent Leslie Eastman; Station Sergeant Eroy Williams, and other ranks attached to the Mahaicony Police Station.
The residents expressed their gratitude to the Top Cop for his timely intervention and pledged their support to the Police in the development of the community and the fight against crime.
With this initiative, it is hoped that the issue of cattle rustling in Mahaicony and other parts of the country can be effectively addressed through the collaborative efforts of the Police and members of the public.