…2 in custody
Two persons are now in custody as Police probe the death of a Corentyne, Berbice carpenter, who was found lying on the Corentyne Highway.
Dead is Navindramauth Bowman, also called "Altaf", 21, of Lot 54 Number 70 Village, Corentyne. Reports are Bowman was beaten by two persons after he went away with a $5000 bill they had given him to purchase a bottle of rum which cost $1500. Speaking with Guyana Times, the dead man's uncle, Mohamed Safraz Noordeen, said he was approached and told of the transaction. According to Noordeen, he was visited by a villager who is commonly called "Two Feet", who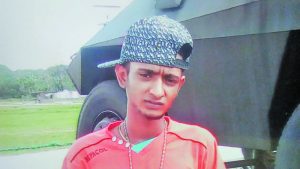 related to him that Bowman went away with $5000 which he and another had given him to purchase rum.
"He come to me and tell me that Altaf take $5000 from him to buy rum and he aint bring back their money. The second time he come he say that he gone kill Altaf if he see him first… Is about 15 minutes after I telling my sister in front the story and I get a message that Altaf lying down on the road."
The injured man was picked up by his uncle and rushed to the Skeldon Hospital where he was pronounced dead on arrival. According to Noordeen, it would appear as though the now dead man was hit to the head.
The young man's grieving aunt, Bibi, related that prior to leaving home, Bowman had asked her for money and she gave it to him.
Meanwhile, an investigation was launched into the young man's death and Police acting on information received went to a house at Fyrish, some 35 miles away from where the incident occurred, and arrested two men.
Also at Fyrish, a woman was questioned by Police and reportedly told investigators that "Two Feet" and another known as "Ariv" had gone to her house for refuge, claiming that they had beaten a man but could not say if he was dead. The two suspects in custody are cooperating with the Police probe.
Bowman, 21, was picked up on the same spot where the body of a 26-year-old carpenter was picked up on November 1, 2017.
The lifeless body of Fayaz Narinedat was picked up at Number 70 Village just over two years ago at the same spot. Five men and two women have since been charged for his death. The alleged mastermind of that killing, Marcus Bisram, who lives in the United States is yet to be extricated to face charges locally.