The Ethnic Relations Commission (ERC) has embarked on a developmental trajectory in the public awareness arena in collective efforts to foster unity among Guyanese by launching its harmony campaign.
In the company of the Chairman of the Commission, John Smith; Social Cohesion Minister, Dr George Norton; Social Protection Minister Amna Ally; Education Minister Nicolette Henry; former Prime Minister Samuel Hinds; Commissioners of ERC and other stakeholders, a series of new material were launched for public welfare.
A sociable and remodelled website was introduced, featuring information about the Commission's work and monthly newsletters, distributed with only the requirement of a subscription. Additionally, Five Public Service Announcements (PSAs) are expected to be broadcasted along with the introduction of the 'Harmony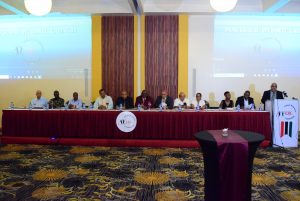 Challenge', several posters, a harmony "passport", brochures and two billboards.
Meanwhile, a new national unity song was recently produced and is voiced by performed by prominent Guyanese artistes Mark Ferdinand and Tshanna Cort while a play, titled "I Am Us" will be staged on March 2 and 3, featuring prominent Guyanese actors and actresses at the National Cultural Centre. Both performances are slated to begin at 19:00h and admission is open to the public.
In giving his remarks during the unveiling ceremony, Commissioner Neaz Subhan emphasised that this initiative is the organisation's educational campaign to establish harmony among Guyanese. For this, they remain hopeful that all materials will be utilised and appreciated through social media outlets, broadcasts and other mediums.
"The Commission knew and accepted that pivotal to the delivery of its constitutional mandate is education. The Commission firmly believes that education brings understanding, understanding brings appreciation, and appreciation builds tolerance which in turn is the vital to the promotion of harmony."
People's Progressive Party/Civic Member of Parliament Juan Edghill shared words of encouragement on behalf of the Opposition. According to him, the ERC must also enhance its capabilities to monitor issues before it becomes uncontrollable. He also referred that there is still a barrier between the classes of urban and rural living.
"As Guyanese, we must determine if we want to be a people that are miles apart or we are working towards our nation's motto where we are coming from different cultures, different religions, different world views and different socialisation. We still have major problems with class in Guyana, with rural and urban and we have to come from those standpoints and come together." Dr Norton gave his presentation on behalf of the Government, by noting, "We are a caring people, which makes our diversities our strength…For this to materialise, harmony is an important ingredient and one of the most powerful component of harmony that unites us at the core is music." The ERC was established as a constitutional body by Constitutional Amendment (2) Act of 2000, which was assented to by the then President on August 11, 2000. It was recently reconstituted in April 2018.
The Commission is also mandated to promote equal access by persons of all ethnic groups to all public or other services and facilities provided by the Government or other bodies.