A Corentyne, Berbice woman was stabbed to death by her reputed husband of 19 years on Monday afternoon.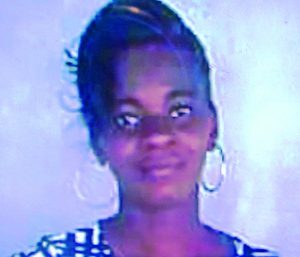 Dead is Yansen Tamika Brush, 38, of Lot 20 Second Street, Ulverston Village, Corentyne, Region Six (East Berbice-Corentyne). The mother of four operated the canteen at the Alness Primary School. Her reputed husband, Winston Benjamin, also known as "Blood", is a cane harvester attached to the Skeldon Sugar Factory.
Reports are the stabbing took place at a shop two houses away from Brush's home about 13:30h on Monday.
Owner of the shop, Beverly Green related that the now dead woman was stabbed five times before collapsing. Recounting the incident, Green related that Brush was a customer at the shop along with her reputed husband.
"Yansen came to buy Kool-Aid; Winston came like a minute after to buy sugar, when Yansen saw Winston I see she move aside a little. So I ask she 'Wha happen to ya'll two?'. Yansen then say them quarrel and she weary sin she soul and seh God and the court will decide. As soon as she said that, Winston whip out a knife and he immediately start stabbing Yansen."
According to the shopkeeper, Brush tried to escape, but there was not enough space for her to escape from the cane cutter.
"So I run around and try to grab the knife from Winston and so Yansen escape from Winston and she tried to go out the gate, but the gate was closed and she just head into the house."
Green explained that she continued to hold on to the suspect, who took off his shirt in a bid to get away, but she continued to hold on to him and attempted to take the knife, but he switched it to another hand.
"He start saying 'loose me, gal; loose me, gal', so I loose him and he run down the street and out to the road and when I turn to go in, I see Yansen bleeding in front the door; she collapse… she give a deep breath and she eye turn up an she was lifeless," Green further related.
She said the suspect headed towards the backdam area and took with him the knife which he used.
The dead woman's sister, Roxanne Brush told Guyana Times that Yansen moved back home four years ago, but still shared a visiting relationship with Benjamin. She referred to the first 15 years of their relationship as abusive.
The dead woman's sister explained that she heard screams coming from the shop. "I run out. Then I see the shop lady holding Winston and I run in and see Yansen bleeding. The last thing she tell me is 'I'm not going to make it,' and then she collapse," the grieving sister recalled.
Brush leaves to mourn her father, siblings and four children ages 18, 13, 8 and one. (Andrew Carmichael)