…Guyana on high alert
…ports of entries monitored – health officials
With a case of coronavirus already confirmed in the South American nation of Ecuador, authorities in Guyana have begun preparing for a possible outbreak here, but have assured that there is no need to panic.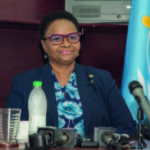 At a press conference on Tuesday, Public Health Minister Volda Lawrence stated that finances will not be a problem and that the Georgetown Public Hospital Corporation (GPHC) has already established an isolation area for suspected cases.
In the event that the numbers exceed the hospital's capacity, more such facilities will need to be established.
"So that is being worked on and we will make a presentation to the Minister of Finance. He is fully aware of what we are doing and how we are moving forward with this process of preparation. So, the Permanent Secretary is taking note of all of the needs by both the GPHC and what we will need in the regions and the local facilities which fall within the ambit of the Ministry of Public Health."
Meanwhile, according to Dr Tracey Bovell, who operates at the GPHC's Emergency Room, that hospital is already in preparation mode for suspected and/or confirmed coronavirus cases.
"We have identified our isolation areas and we are working to concretise them to ensure that they [are] safe for the public and for the other patients that will be visiting the hospital for medical care that are not related to this illness as well. The Emergency Room and the Outpatient department will still function as normal. Our aim is to try to get the persons that are suspected cases to a particular area of the hospital so that they can get care."
Currently, a screening process in the form of a questionnaire is being used by health officers stationed at various ports of entry to help in the detection of suspected cases.
Deputy Chief Medical Officer (CMO), Dr Karen Boyle noted that this will aid in the confirmation of a passenger's age, sex, seating on planes to determine if other passengers would have been exposed among other information.
"This screening tool, all of our port health officers will have this. And the immigration officers have also been sent this too. They have also been advised that if anybody is coming on the plane that has these signs or symptoms refer them to the port health officers so they could have further questions."
Chief Medical Officer, Dr Shamdeo Persaud also pointed out that persons with flu-like symptoms should not be stigmatised, and that the screening is not limited to passengers coming from New York to Georgetown or from Panama to Georgetown, but other areas as well.
"In addition to that, each arriving aircraft is required to complete what is called a health declaration, a declaration form. The flight attendants would usually indicate if there is anyone on that flight reported sick, vomiting, having fever … in those instances we will identify those persons, those are made aware to the port health officers on arrival before the aircraft is cleared, those persons will be removed and we will take them through the interview that is in place."
Dr Persaud noted that the Caribbean Public Health Agency (CARPHA), which is the designated Influenza centre in the region, has activated its biosafety level 3 services and has the capacity to test for the coronavirus disease.
"What we have to fine-tune a bit is the system to collect the samples and have them shipped effectively in a timely manner to that centre. Results are promised within three days from the last conversation we have had with CARPHA."
Meanwhile, Pan American Health Organisation/World Health Organisation (PAHO/WHO) Resident Representative, Dr William Adu-Krow also noted that 14 countries apart from China have reported cases where coronavirus cases were confirmed.
He stated that 52 of those cases come from countries outside of China. Globally there are 4564 confirmed cases as of noon on Tuesday with 106 persons succumbing to this deadly disease.
"In the Americas, we have seven confirmed cases and those seven confirmed cases, five are from the United States of America and two are from Canada. There are six suspected cases in our region. One is from Ecuador and five in Canada, the issue is gradually getting to our shores, and our advice to member states including Guyana is to make sure the index of suspicion is high," Dr Adu-Krow added.