Millions of dollars went up in flames on Tuesday after a fire of unknown origin completely gutted the popular party spot, District Ultra-Lounge, located at the Giftland Mall, Pattensen, Greater Georgetown.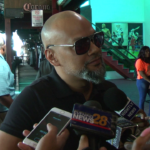 The blaze reportedly started at about 13:25h inside the nightclub which caused an emergency evacuation of the area which is known as "The Strip".
When Guyana Times arrived at the scene, patrons and business owners were seen assembled in the parking area as firefighters contained the blaze.
Owner of the entertainment spot, Sean Major during an interview with the media explained that nothing was salvageable as he estimated his total losses to be $45 million.
"I was home and I got a call saying that the inside is no fire, I didn't know to what extent or what magnitude…I was in total shock when I went in to see that it was completely damaged. There's no salvaging anything there and obviously, we're disappointed," Major noted.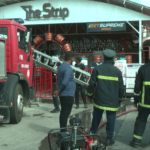 Major further added that his next step is deciding whether to rebuild or move on. But according to the businessman, the fire was not electrical.
"Me and my partner will sit down [and decide] what we want going forward, if we're just [going to] let it go and maybe rebuild…this has nothing to do with electrical based on a few fire officers I spoke to. They checked the panel, everything is in tack".
Also at the scene was the proprietor of Giftland Mall, Roy Beepat, who told reporters that the fire was contained very early by the mall's personnel and firefighters, who arrived at the scene on time.
Beepat shared that there are a number of fire security measures in place at the mall to guarantee customers' safety.
"Once again, our teams responded very quickly, the fire alarm went off, all the firefighting equipment was there, our personnel from iBet was very quick and they put the fire out in record time…the fire was put [out] in five to seven minutes after it started. There's fire hoses, fire escapes, there's firearm alarm and a very alert and well-trained security. In fact, we have regular fire drills so in events like this the place is evacuated very quickly."