…40,000 more to arrive within weeks
The COVAX mechanism on Monday delivered 38,400 doses of the AstraZeneca vaccine to Guyana – the second consignment that has been sent within two months.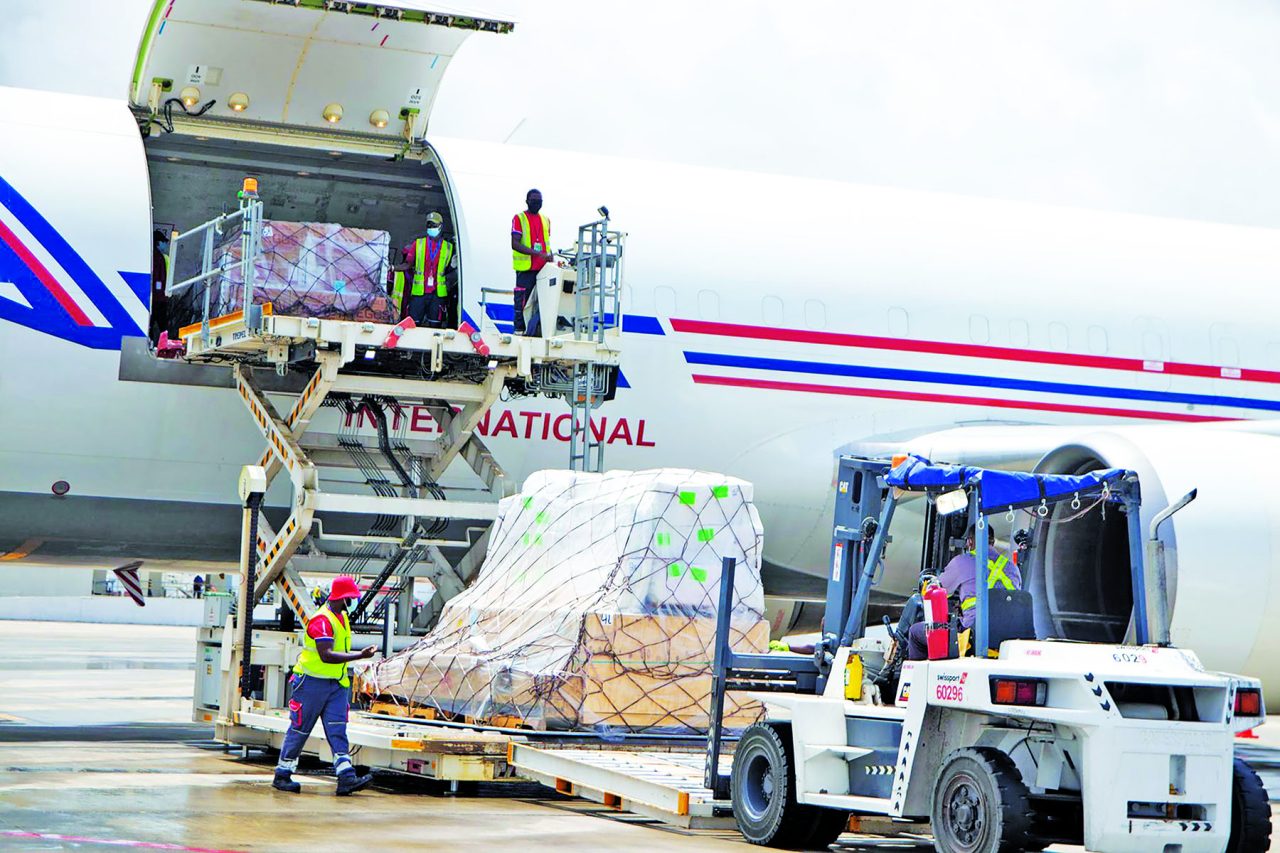 In total, Guyana has received 62,400 doses through COVAX. The agency has promised to send 100,800 shots at zero cost that will cover 20 per cent of the adult population. It is expected that more vaccines will be delivered in the future until this target is achieved.
The batch of shots landed at the Cheddi Jagan International Airport (CJIA), where Foreign Affairs and International Cooperation Minister Hugh Todd was present to accept the shipment. He was accompanied by Pan American Health Organisation (PAHO) Country Representative, Dr Luis Codina; Deputy British High Commissioner Ray Davidson and Deputy Chief of Mission at the US Embassy, Mark Cullinane among other officials.
Todd noted, "We want to say a heartfelt thank you to our international friends and partners who would have made the COVAX mechanism very effective in being able to treat with this global pandemic. We have seen the effects of this pandemic and we' re certain that we live in a global village."
The Foreign Affairs Minister added that when there was such an extensive threat to global health, it required a 'global governance approach' and these actions were testament of such cooperation.
"This is what you get when countries come together, recognising that we need to put our time and energies together to ensure that we can fix a problem that has global repercussions. We need to have a healthy global environment for us to enjoy good health and long health," he noted.
The PAHO Country Representative indicated that another 40,000 doses would be sent within the next weeks. With several vaccines authorised for emergency use and some in the trial phase, he said heightened production is anticipated by mid-2021.
"We are expecting another one with 40,000 doses. We expect it at the end of this month to the beginning of the next month. COVAX is a platform of solidarity, focused on the less rich countries having access to many kinds of vaccines, not just one type," Dr Codina outlined.
COVAX is a partnership between the Coalition for Epidemic Preparedness Innovations (CEPI); Gavi – the Vaccine Alliance; the Pan American Health Organisation/World Health Organisation (PAHO/WHO) and the United Nations Children's Fund (UNICEF).
Guyana is included in 10 countries in Latin America and the Caribbean that are receiving vaccines at no cost through the Advance Market Commitment (AMC) and was the first country in the Caribbean to receive the vaccines.
The first coronavirus case in Guyana was reported in March 2020. Since then, the country has confirmed over 10,000 cases and 327 deaths as a result of infection. COVAX seeks to provide vaccines for at least 20 per cent of the population of each participating country during 2021.
The mechanism aims to secure 1.3 billion doses for 92 low and middle-income countries by the end of the year. Vaccine flights have been taking off almost every day and to date, the European Union has given over €2.2 billion in contribution – making it the biggest donor to date.
Thus far, Guyana's vaccination programme has been led by 80,000 AstraZeneca vaccines from India, 20,000 Sinopharm doses from China and 3000 AstraZeneca vaccines through the Barbadian Government.
The country has also purchased US$4 million of the Russian-manufactured Sputnik V vaccines – of which 138,000 doses have already arrived. Another 60,000 are expected this week.