A galaxy of softball cricket starts is expected to be on show tomorrow as the second edition of the Dassie and Friends Production one-day round-arm knockout softball extravaganza gets underway at Keele Top, North York in Toronto, Canada.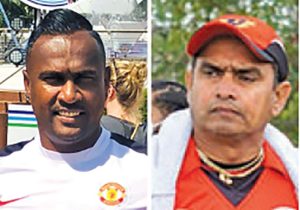 The organiser of this extravaganza is former national captain Damodar Daesrath, who is promising an engrossing day with ten teams ready to rumble in what should be a spectacle. Action commences from 09:30 hrs.
Apart from acknowledging the kind generosity of the sponsors, Daesrath wishes to thank the competing sides in anticipation of their participation. The two main sponsors are ALARM TECHZ and KP Employment Solutions Inc.
Daesrath wishes to extend special gratitude to Ravi Etwaroo of Cricketzone USA, who is donating an E4 cricket bat to the man-of-the-match in the final.
The winning side is set to collect Cdn$2,000 and a trophy, while the runner-up team would cart off a trophy and Cdn$500. Outstanding individual performances would also be rewarded.
Notably, the day's games are in memory of the late Johnny Bujan, whose contributions to cricket Canada had been stupendous. Bujan had managed the Canada national cricket team on many occasions, while he had partnered the Brampton Masters Cricket Club for a long time. Bujan died in a vehicle accident in Trinidad and Tobago in 2016 at the age of 48. His services and contributions to game must be recognised, according to Daesrath, who also represented Canada internationally and Brampton Masters.
Meanwhile, team Assassins had emerged as champions last year, and Captain Riaz Kadir recently informed that the team is still brimming with confidence. He has said he is anxious to lift the trophy again, but is cognisant that other skippers have expressed intention of doing same by the end of the day's proceedings.
Teams participating in Sunday's extravaganza are: Vikings, Assassins, Young Warriors, Ruff Riders, Leguan Boyz, Phoenix Eleven, Pegasus, Brampton Gladiators, Sunshine, and VIP Boys.
Several seasoned campaigners are expected to exhibit their skills, among whom are: Riaz Kadir, Bobby Parasnauth, Damodar Daesrath, Sunil Ramkissoon, Anil Mahadeo, Avish Rukhram, Troy Gobin, Zaheer Allard, Looknauth Ramsuchit, Avinash Sukhdeo, Rawle Scott, Naresh Roopnarine, Anil Ablacksingh, Devo Ramsawack and Naresh Bhagwandin, among others.