The Tropical Orchard Products Company Limited (TOPCO), a subsidiary of the Demerara Distillers Limited (DDL) will soon embark on a project to re-introduce dairy farming on a large scale to the community of Moblissa along the Soesdyke-Linden Highway.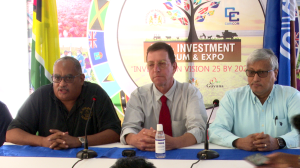 This will pave the way for the company to sell pasteurised cow milk within two years' time.
During a press briefing on Saturday at the Arthur Chung Conference Centre (ACC), the company stated that technical and financial feasibility studies have not yet been completed, and the company is currently in discussions to settle on a possible plot of land to rear some 500 cows.
These cows will be imported into Guyana in the initial stage from Israel.
Chairman of DDL, Komal Samaroo stated that the initiative is a part of the company's major diversification drive while stating they have not yet finalised where the rearing of the cows will be done.
"While we design a facility to package juice, given the fact that Guyana was importing most of its milk at a significant cost, we decided to build in the features of being able to package milk and supply the domestic market. As an interim measure, we are reconstituting powdered milk, but the goal has always been to integrate back into the domestic dairy sector."
However, Rami Ofer of Isarel's LR Group explained that they are currently seeking a plot of land at Moblissa along the Soesdyke-Linden Highway.
When fully operational, the project is expected to hire hundreds of locals, produce 1200 litres of milk daily from the milking cows, and have over 600 acres of forage plants under cultivation.
Projected benefits to the local farming community include contract farming and training, as well as the introduction of new technologies and different cow breeds.
DDL is also in talks with utility companies, including the Guyana Power and Light and the Guyana Water Incorporated, to find the best options possible.
Only last year, the company that is known for producing boxed fruit juices launched its new range of TOPCO one-litre juices and juice drinks, in four flavours, on the local market. The DDL group also invested $4 billion in a new Tetra Pak packaging plant, as well http://online-pharmacy.org/nootropics/how-to-measure-nootropics/ as a fruit processing plant in 2020.
The TOPCO expansion was part of a larger five-year $10 billion expansion project, announced by Samaroo in 2017.