…uncertified daycare owner in custody
A post-mortem examination performed on the body of seven-month-old Oriyah Gravesande has revealed that the infant died from haemorrhage and compression to the neck.
The post-mortem examination was conducted on Wednesday by Government Pathologist Dr Nehaul Singh at the Georgetown Public Hospital's Mortuary.
Gravesande died on Tuesday, hours after her mother had dropped her off at the facility.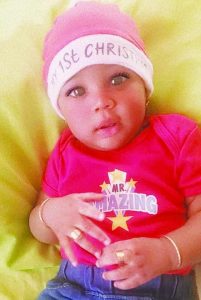 Meanwhile, also on Wednesday, Police confirmed that the owner of the private daycare in Ogle, East Coast Demerara (ECD) has been arrested.
Officials have confirmed that the facility was uncertified and ought not to have been in operation. This raised questions about how such a facility could operate without proper authorisation.
On Tuesday, the infant's mother, Shavanie Gravesande, was called to the facility after being informed that her daughter was unresponsive.
"They called me and tell me that our baby was unresponsive when they took her to the health centre, and by the time they reached the Georgetown Hospital, she was pronounced dead…she left home good, smiling and everything," the child's parent told the media.
The mother, devastated by the loss of her child, added that she was contacted two hours after the incident, and by the time she arrived at the hospital, she was told that her baby had died.
"They murder my child… they say she fell off the bed and wrapped up in the sheet and she suffocated," she cried in grief.
The child's body has been handed over to the family for burial. The incident has raised concerns about the safety and regulation of private daycares in Guyana.
In a similar case in 2019, a three-year-old girl died at a private daycare in Georgetown after being left unsupervised in a vehicle. The owner of the daycare was charged with manslaughter.
The investigation into the latest case is ongoing, and it is not yet known if other staff attached to the daycare have also been arrested. The community is mourning the loss of the infant, and is demanding accountability from those responsible. (G9)