Four days after a partially decomposed body of a man was found in the lower flat of a building in Timehri, he was positively identified as Haniff Khan, 47, of Post Office Street, Grove, East Bank Demerara.
The body was identified by the man's brother, Fazil Khan, on Tuesday at the Memorial Gardens Mortuary.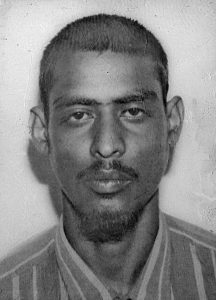 Speaking with Guyana Times, the grieving brother explained that his sibling worked with a Chinese family on a farm along the Soesdyke-Linden Highway as a farmer.
His family was not aware of the demise of his brother until a relative informed them on Sunday afternoon. "Somebody who know meh uncle tell he that meh brother dead and deh at the parlour," the man stated.
Upon receiving the news, his uncle and a younger brother went to the mortuary to identify the body, but owing to the state of decomposition, they could not recognise him.
However, on Tuesday, Fazil was accompanied by the said uncle to the mortuary where he identified his brother by his hair style and the spaced teeth in his mouth. Now that the body has been identified, a post-mortem is expected to be conducted today to determine the cause of death, but the family is holding out that the man might have been beaten to death.
This was the conclusion after the family was told that the now dead man and another worker were engaged in a heated argument, which escalated into a scuffle while working on the farm days prior to the discovery.
The worker allegedly picked up a cutlass and dealt Khan several blows to the body, the family was reportedly told.
"After we get the news we went to the Chinese people and then is when they tell me about the fight and that Police on the highway know about it… the Police claim that they carry meh brother for a medical and the doctors discharge he," the man related.
The man also noted that based on reports received, the Police at Timehri chased his brother out of the station after seeing his condition two Tuesdays ago. The man's brother is calling for the intervention of the relevant authorities so that justice can be served.
Khan's body was found on Friday last in the lower flat of a house in Timehri, East Bank Demerara. At the time of the discovery, the man's body bore several marks of violence.
Residents in Timehri claimed that the man was seen walking around in the village on Tuesday last with what appeared to be marks of violence about his body. He was also heard groaning in pain.