…serving above and beyond the call of duty
By Indrawattie Natram
Inspiring, motivational, confident and ambitious are words that do no justice to describe 47-year-old Dianne Sandy, a midwife who personifies courage, strength and determination. Sandy has served her community with confidence as a woman of substance and has left a lasting impression on the lives of those she has come into contact with.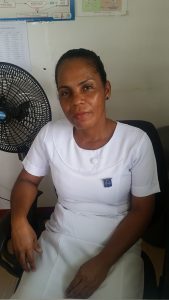 A resident of the picturesque Indigenous community of Mainstay-Whyaka, Sandy is a proud independent mother of two. After graduating from the Cotton Field Secondary School in 1984, Sandy started her career as an acting teacher at Lake Mainstay Primary. She spent five years serving her community as a teacher; however, she knew that being in the education sector was not something she was comfortable with; she wanted to do more for her community.
During an exclusive interview with Guyana Times,  Sandy explained that while growing up, she always admired nurses.  "I don't know but I love how they look, how they serve and I just wanted to be one of them, so I applied." In 1990, she was selected by her community to be trained as a Community Health Worker (CHW), an opportunity she was waiting for. Accepting that position with much optimism, Sandy said she knew she was heading into the career she always wanted and, as such, pursued it with sheer determination and enthusiasm. At first, she said, it was exhausting, and it took a lot of energy from her, but what was satisfying for her were the smiles of joy she brought to members of her community.
During her time as a CHW, she served the Amerindian community of St Denys-Tapakuma, her entire village of Mainstay, and the interior areas of Lima Sands, delivering babies, providing counselling as well as reaching out to the elders. House-to-house visits were routine for her and this blessed midwife said there was never a day she went home feeling tired.
She recalled fondly that during her time as CHW, she would cycle to areas that needed her expertise. One time, she related, someone needed her help and on her way there, while she was riding, she toppled from her cycle and hurt herself. Sandy said that she didn't turn back, although her clothes were also soiled, instead she went to assist the sick person who needed her help.
"In the past, we didn't have roads like now: most areas' health professionals either walked or canoed, but we got the job done. It was a hard task, but rewarding at the end," Sandy said.
Alluding to the challenges faced while growing up, Sandy explained that during that time, there was a lack of facilities to acquire an education, and she and her siblings had to walk long distances. She was brought up in a strict traditional household. She paid homage to her mother, Isabella Allen, who was a single parent and who cared for four children faithfully, without complaining and always encouraged her to pursue her dreams.
In 1994, after serving her community unswerving, Sandy applied to be trained as a midwife. She was a successful applicant and, as such, ventured to the Georgetown Public Hospital Corporation (GPHC) to acquire the necessary skills and knowledge in that field. After two years of rigorous training, she attained a certificate from Georgetown School of Nursing and a Midwifery certificate from the Health Ministry.
One of the main challenges during this period, she recounted, was not being there for her children throughout their primary and secondary education.  Sandy said she, however, made the sacrifice and she was happy that her children, Cassia and Swayne Fitzpatrick understood.
"I kept pursuing; there were many times I felt like giving up for the sake of my family, but I always remember my parents telling me a girl needs her education, she needs to be independent and she needs to use her influence to change society," Sandy revealed.
She is presently the midwife in her community and is stationed at the Anna Regina Health Centre. To date, she has delivered hundreds of babies and is specialised in pregnancy, childbirth postpartum, women's sexual and reproductive health, family planning, menopausal care as well as newborn care.
"I walk most of the time; yes, I foot it. I believe in walking and since I was small, walking is something we had to do since there were no other alternatives. Rain or sun, I meet to my job," the midwife explained.
Her advice to persons, especially those living in the interior, is to get an education. Sandy said women should not see themselves as confined to a home, rather they should be all around, occupying prestigious offices. Sandy believes that a woman who is empowered has the ability to change the world with her skills.