A fire of unknown origin on Monday destroyed a building at Mabaruma, Region One (Barima-Waini), which was rented by the Public Health Ministry to house Cuban doctors working in the region. Reports are the fire started at about 11:15h. At the time of the blaze, no one was in the building. The flames became noticeable only after it had spread to a large section of the two-storey wooden building. The rear end of the building was destroyed and the fire then moved to the front, gutting the entire structure.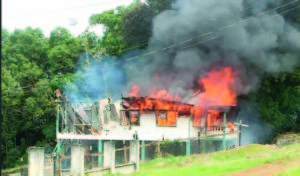 This publication understands that nothing was saved and the belongings of several medical personnel were all destroyed.
During the past few days, almost one fire has been reported every day, leaving numerous persons homeless. Just last Saturday, an entire family of three was killed after a fire started in their Sixth Street, Cummings Lodge apartment complex. In that ordeal, 28 persons were also left homeless.
Dead are Beverly Miller, 40; Martin Lewis, 46, and their 14-year-old son teen son Dawall Ifill, all of E-Half Sixth Street, Cummings Lodge, ECD.
On the same day, a family of three was also left homeless after a fire ravaged their one-storey Lot 197 Section A Field Seven South Sophia, Greater Georgetown wooden home.
Meanwhile, on Friday, millions of dollars in furniture and equipment were destroyed when the ND&S furniture store and factory, located at Gap Road, La Jalousie, West Coast Demerara (WCD), went up in flames.
On Thursday, the home of an 81-year-old Kingston pensioner went up in flames after he left for work in the wee morning hours.
According to reports, residents reportedly saw smoke emanating from the Lot 33 Barrack Street, Kingston property sometime after 07:30h and summoned the Guyana Fire Service. Three tenders responded to the scene shortly after and managed to contain the blaze from spreading to other neighbouring properties. However, nothing was saved.
Investigations were launched by the Guyana Fire Service into each incident.