In observance of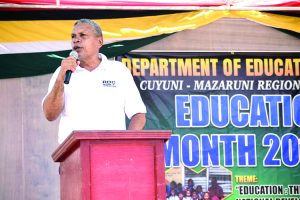 Education Month 2019, Region Seven's (Cuyuni-Mazaruni) Education Department on Friday hosted its grand road march, rally and cultural presentation which saw the attendance of students and teachers in their numbers.
During the opening of the activities, Regional Chairman Gordon Bradford in his feature address used the opportunity to divulge plans for the construction of an early childhood school and a special needs school in Bartica, along with the construction of several primary schools in the Cuyuni and Upper Mazaruni region, some of which have already started.
On this note, the Chairman reiterated the importance of delivering quality education to the nation's children.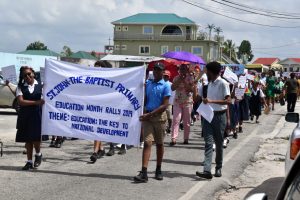 "The national and regional budgets, both, reflect significant allocations towards education, because your Government recognises the importance of education in the development of the nation, and is sparing no effort to equip you with the right skills to take on the imminent challenges of nation-building", he said.
The march culminated at the Community Centre Ground for the rally and talent show which saw participation from teachers and students, as well as education and regional officials from several schools within and neighbouring the region.
Among the schools that participated were Three Miles and Bartica Secondary, St John the Baptist Primary, St Anthony's Primary, High Achievers School of Learning, Adult Education Institute and the St Michael's Private School.