A fire of unknown origin has partially destroyed a building at Lot 3B New Road, Vreed-en-Hoop, West Coast Demerara (WCD) on Tuesday.
When the fire was spotted at the property at about 9:30h, the Guyana Fire Service was immediately contacted; and
upon arriving on scene, firefighters were successful in containing the blaze to one location, preventing its spread to nearby premises.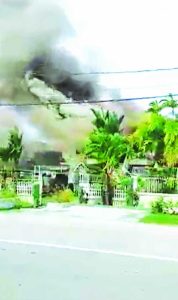 When Guyana Times arrived on scene, the upper flat of the two-storey concrete structure had already been destroyed.
Owner of the building, 67-year-old Harry Deodhary, was too distraught to speak with the media, but persons from the community said the house had been occupied by an engineer who had been living alone at the property for several years.
One neighbour explained that he was at work when, at about 11:00h, he received a telephone call from his wife informing him that their neighbour's house was on fire. Fearful that his home would also have been destroyed, the man said, he picked up his phone and called the Fire Service immediately to report the fire before rushing home.
He claimed that by the time he got on scene, the Fire Service was already there battling the blaze, but despite their efforts, the upper flat of the building was destroyed.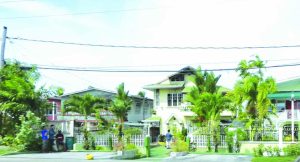 The man also said he was told that at the time the fire started, the owner of the building and his employees were in the office on the lower flat when they were alerted that smoke was emanating from the upper flat of the house.
He said he was reportedly told that they had tried to save some documents that were in the office, since the upper flat of the building had already been fully engulfed.
No one was reportedly injured in this incident, and the Guyana Fire Service has since launched an investigation, but based on reports received, there had been a power outage in the area, and shortly after the power was restored, smoke was seen billowing from the upper flat of the building.