The Linden-to-Mabura Road Project is a part of the puzzle that will open access to markets, enhance tourism, and boost connectivity beyond the coastline.
As the project comes on stream, Lindeners are poised to capitalise on the flurry of developments that will manifest along this route, should they take up the opportunities that are presented in the immediate future.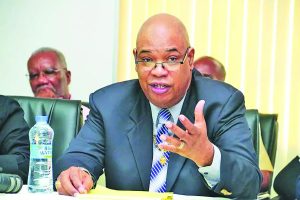 Public Works Minister Juan Edghill noted during the recent contract signing that the road would be frequented every day, especially for the transport of goods. And with the rise in tourism in the region, Linden does not have enough hotel capacity.
As such, he urged the township of Linden to align and benefit from this development by investing in hotels and other services that will be critically needed.
"Linden is not going to be an abandoned place, but rather, Linden needs to be positioning herself for the benefits that will come as a result of this road…I want you to envisage 100 containerised trucks per day minimum coming through from Brazil. They have to come through Linden. You better get your restaurants open. They will need fuel stations. They will have to be serviced. They will have to have rest stops along this road.
"There are nine rest stops that will be built and if you got 100 trucks coming through with goods, that is only the business. But what about the tourists? You don't have enough hotels in Linden to accommodate tourists that will be coming as a result of this road," Edghill pointed out.
Potential housing areas will also be opened up once the road is completed, thereafter creating a wider need for services such as hardware, quarrying, lumbering, construction, supermarkets, and hospitals among others.
"It is time for people to make investments. Whenever you build a road, people would be able to go live. Development is going to start happening along the road, because people would be able to get access to their homes, into the township, supplies, services, hospitals. So, housing and other development will take place along the road," the Minister said.
This linkage, according to Public Works Minister Edghill, was also embarked upon with the intention to serve as a connection to the touted deep-water port in the Berbice River.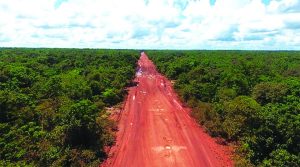 "You will see that there will be many businesses that will cause traffic because the same businesses that have to sail seven days through the Amazon to get out into the sea would be able, by the way of trucks, to get to our deep-water harbour in 18 to 20 hours. They will have access to ocean-going vessels to deal with exports and trade. This road must be accompanied with an understanding that it is intricately linked to the establishment of the deep-water harbour," he explained.
The US$190 million contract was signed on Friday with Brazilian company Construtora Queiroz Galvao S.A. for the construction of the 121-kilometre road. In addition to the contract signing, a sod-turning ceremony was held at the Wisroc Junction in Linden, marking the starting point of the road construction process.
The project is being funded by the Caribbean Development Bank (CDB) via a US$112 million loan, a grant to the tune of £50 million (US$66 million) from the United Kingdom under the Caribbean Infrastructure Partnership Fund (CIPF), and an input of US$12 million from the Guyana Government.
With a 7.2-metre-wide carriageway, the Linden-to-Mabura Road will feature a cycle and pedestrian lane measuring 2 metres wide, along with 10 bus stops outfitted with ramps for persons with disabilities. Additionally, a number of bridges and culverts along the way will be replaced, and some 123 lights would be installed.