…as Prime Minister emphasises importance of togetherness
The holy month of Ramadan on Monday culminated with the grand celebration of Eid-ul-Fitr, where President Irfaan Ali has encouraged for the virtues shown during this period to continue as a way of life.
The Head of State started the celebratory day for the Islamic community by joining Muslim Youth Organisation (MYO) in the early hours. His message reflected on the teachings drawn during Ramadan, surrounding the ability to love and show compassion to one another.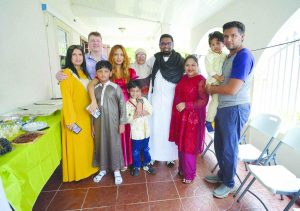 "We are created with the ability to love, to be peaceful, to be humble, to be charitable, to make sacrifices, to be respectful. More importantly, we are created with the ability to be better than we are. This is the personal message that Ramadan has reenforced to all of us," said the President.
Moreover, he asserted that this season emphasises the fact that there is no difference between people when placed before God.
"It has reemphasised the point that regardless of where we stand or sit in life, we are but one. The purpose of us standing together in prayers is to demonstrate and reinforce this fact that before God Almighty, we are nothing but the same. There is absolutely no difference based on any character, whether rich or poor. It is these principles and examples that we were able to demonstrate to ourselves and allow us to be better humans, better citizens, a better country, and a better world."
Consequently, the Head of State concluded that Guyanese should continue to practice such values as a way of life, now that the fasting period has ended. This, Ali noted, would result in a more peaceful society.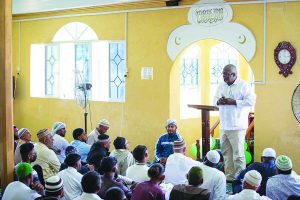 "Let not Ramadan be the only occasion in which we get together in community. Let Ramadan not only be the occasion in which we express these virtues. What Ramadan has done for us is demonstrated to us that we have the ability to do it. We must all make it a way of life. We must also continue to do our part in standing up for what is right, standing up for principles, the rule of law, democracy and standing up against injustice. If we are to ensure that the virtues and blessings of Ramadan continues, then we should all aspire to take some of this forward so that our lives can be completely improved. It is much easier to live in peace and humility," he expressed at the MYO gathering.
After this engagement, Ali also engaged families at his at Leonora, West Coast Demerara home and around the community.
Freedom to worship
Meanwhile, Prime Minister, Brigadier (Ret'd) Mark Phillips during his visit to No 11 Woodley Park Masjid in Berbice for the Eid-ul-Fitr celebrations, spoke of the importance of respect for religious beliefs in Guyana and promised that freedom to worship would remain a hallmark of the Government.
The Prime Minister also spoke of the importance of togetherness.
"You have a Government that is committed to ensuring that 'One Guyana' is our concept for the development of Guyana. A 'One Guyana' that will respect all religions and that will ensure we can gather and celebrate together," Phillips is quoted as saying in a release from the Office of the Prime Minister.
He added that the Islamic community is known for its charitable work, and the Government will continue to support and work in conjunction with the community.
Eid, popularly known as Eid-ul-Fitr, is a festival observed by the Muslim community to celebrate the conclusion of the month of fasting. Eid-ul-Fitr literally means "festival of breaking the fast".
Eid is celebrated on the first date of Shawwal, that is, the tenth month of the Hijra calendar. During the festival, Muslims exchange gifts, greet their neighbours as a mark of solidarity and brotherhood.
A commemoration of Muhammad's first revelation, the annual observance of Ramadan is regarded as one of the Five Pillars of Islam and lasts twenty-nine to thirty days, from one sighting of the crescent moon to the next. (G12)