…as high-level Govt, Private Sector delegation participates in Texas conference
Guyana, which has fielded a high-level delegation of public and Private Sector officials to the Offshore Technology Conference (OTC) 2022 in Houston, Texas, United States of America (USA), is presently the highlight of the conference.
This was revealed by the Natural Resources Ministry, as subject Minister Vickram Bharrat is leading a delegation from his Ministry at the OTC. It was explained that the efforts of the Guyana Office for Investment (GO-Invest) and other participating Guyanese Private Sector delegates, were instrumental for allowing greater networking and partnerships.
Further, the Natural Resources Ministry statement said that it is "encouraged by the participation at the technical forums, as the Guyana team will highlight the future development of our energy sector and growth of our local industries through local content mechanisms. Guyana is once again, the highlight of OTC," the Ministry said.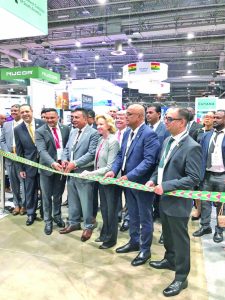 Also in attendance at OTC are Vice President Bharrat Jagdeo; Chief Investment Officer of GO-Invest, Dr Peter Ramsaroop; Chairman of the Private Sector Commission (PSC), Paul Cheong; Chairman of PSC's Local Content Advisory Group, and Vice President of the American Chamber of Commerce (AmCham), Shyam Nokta.
Other Private Sector figures include President of the Georgetown Chamber of Commerce & Industry (GCCI), Timothy Tucker; Energy Advisor, Manniram Prashad; Director of Guyana Oil & Gas Support Services, Nicholas Boyer-Deygoo and Chief Executive Officer (CEO) of Gaico Construction Inc, Komal Singh.
US Ambassador to Guyana, Sarah-Ann Lynch; Deputy Chief of Mission for Guyana's Embassy in Washington DC, Zulfikar Ally; Senior Petroleum Coordinator, Bobby Gossai and Director of the Local Content Secretariat, Martin Pertab and Member of Parliament Sanjeev Datadin also attended the conference.
OTC provides access to leading-edge technical information, the industry's largest equipment exhibition, and valuable new professional contacts from around the world. The event, which is being held at the NRG Park during May 2-5, will see energy professionals meeting to exchange ideas and opinions to advance scientific and technical knowledge for offshore resources.
In Guyana, there have so far been 31 commercial oil finds in the Stabroek Block, which is being developed by oil giant ExxonMobil through its subsidiary, Esso Exploration and Production Guyana Limited (EEPGL).
ExxonMobil has four projects developing the recoverable resource offshore Guyana. The Liza Phase 1 is currently producing approximately 130,000 barrels per day utilising the Liza Destiny floating production storage and offloading (FPSO) vessel.
The Liza Phase 2 is meanwhile ramping up towards its capacity of 220,000 barrels per day using the Liza Unity FPSO. The third project, Payara, is scheduled to begin production at the end of 2023 with a capacity of 220,000 barrels per day from the Prosperity FPSO, which is currently under construction in Singapore. The fourth project, Yellowtail, is expected to produce 250,000 barrels per day when the One Guyana FPSO comes online in 2025.
Only recently, Exxon had announced finding oil at three sites – the Barreleye, Patwa-1, and Lukanani-1 wells offshore Guyana in the Stabroek Block. The three discoveries are southeast of the Liza and Payara developments and bring to five the discoveries made by Exxon in Guyana for the year.
It was explained that the Barreleye-1 well encountered approximately 230 feet (70 metres) of hydrocarbon-bearing sandstone and was drilled in 3840 feet (1170 metres) of water. The second well, Patwa-1, encountered 108 feet (33 metres) of hydrocarbon-bearing sandstone and was drilled in 6315 feet (1925 metres) of water.
Meanwhile, the Lukanani-1 well encountered 115 feet (35 metres) of hydrocarbon-bearing sandstone and was drilled at a water depth of 4068 feet (1240 metres). Operations, it was explained, are ongoing at both Barreleye-1 and Lukanani-1.
The oil rich Stabroek Block is 6.6 million acres (26,800 square kilometres). EEPGL is the operator and holds 45 per cent interest in the block. Hess Guyana Exploration Ltd holds 30 per cent interest, and CNOOC Petroleum Guyana Limited, a wholly-owned subsidiary of CNOOC Limited, holds the remaining 25 per cent interest.