…to close for 3 hours today
The Demerara Harbour Bridge Corporation (DHBC) has announced an impending closure of the bridge on Saturday, July 1, to facilitate emergency works and repairs on the aging structure.
This closure, publicised by the management team through a statement on Friday,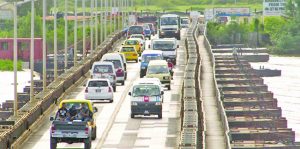 will last for three and a half hours.
"The management of the Demerara Harbour Bridge Corporation wishes to advise commuters that the Bridge will be closed for 3 and a half hours on Saturday, July 1, 2017 to facilitate emergency repairs," the statement detailed.
"This closure, from 10:30h to 14:00h, will affect both road and marine traffic. Management of the DHBC regrets the inconvenience but is focused first on the safety of all commuters using the Harbour Bridge."
The Demerara Harbour Bridge was only recently closed to allow works on key sections of the bridge's retractor span. DHB General Manager Rawlston Adams had made it known during a recent press conference that this was part of a pontoon exchange project.
Old pontoons that have been making up the bridge's main operational network over the past eighteen years were being replaced. This had thus precipitated an intermittent closure for approximately four days.
The General Manager had stated that the $109M project which was being undertaken by local firm Industrial Fabrications Engineering Inc. had started the works at the structure years ago.
At the time, the company was operating under another name; and as such, their familiarity with the bridge had given them the edge in getting the work.
The General Manager had also intimated that Phase two of the project would have started on the western side of the retractor span prior to the first quarter of 2017.