The Environmental Protection Agency (EPA) is conducting a comprehensive review of insurance coverage, or lack thereof, for existing oil and gas projects currently being carried out offshore Guyana.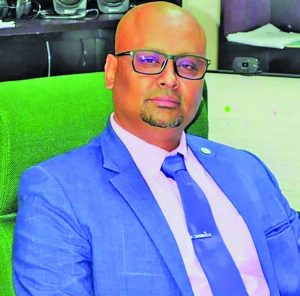 In an interview with this publication, EPA Executive Director Kemraj Parsaram explained that the agency is currently reviewing the protection in place at various oil projects operating offshore Guyana.
According to Parsaram, this includes ensuring that individual insurance and parent companies' guarantees are up to standard and are included in a draft agreement currently being discussed with ExxonMobil.
"So, I'm reviewing all the past projects and the insurance coverage that they have, and making sure it's in keeping with the Act. So that's insurance. And there's also a need for parent companies' guarantee, so there's a draft that was provided, and that is what we're reviewing right now. I'm making sure that our legal minds are reviewing it, and that at the end of the day, before we sign anything and finalise, it is okay," Parsaram said.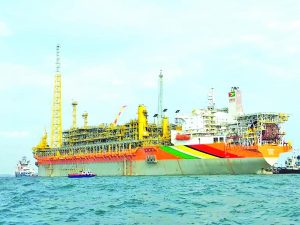 In the case of parent companies' guarantee, this is applicable in the case of subsidiaries, and would ensure money can be recouped from their parent companies. For instance, in Guyana, ExxonMobil's subsidiary, Esso Exploration and Production Guyana Limited (EEPGL), is actually the operator in the Stabroek, Canje and Kaieteur blocks.
"So, you have individual insurance per project, and then you have the guarantee that will cover the entire block. In the event that anything is to happen to one of these projects, the parent company guarantee comes in," the EPA Executive Director said.
It is understood that Guyana currently has insurance coverage for the Liza Fields One and Two from insurance firm Aon Plc. This insurance covers up to US$600 million each for misfortunes that include well blow-outs, pollution, and spills' cleanup.
A prevailing concern during ExxonMobil's scoping meetings is what would happen in the event of an oil spill. But the oil company recently said they are willing to step up to the plate and meet the financial cost in that event.
Exxon recently held a public disclosure meeting for the Yellowtail project, which they are looking to start up in 2025. The meeting, a virtual one, was hosted by the EPA, and discussions were centred on the Environmental Impact Assessment (EIA) for the project.
During his presentation, EEPGL Project Manager Steve Laws acknowledged the concerns Guyanese have about oil spills, in particular the financial repercussions on the country. He assured, however, that Exxon would take care of this fiduciary responsibility.
"Our first priority with all parties is to put in place the mitigation. What we showed in the modeling, if something was to happen, that's unlikely. Now if something did happen, we'd take that responsibility and pay the cost in that event. We have the financial capacity to meet that responsibility… (both) under Guyanese law and the petroleum agreement as well for the Stabroek block," he had explained.
ExxonMobil has said it anticipates at least six projects offshore Guyana will be online by 2027, with developmental drilling recently starting on the second one, the Liza Phase 2 project. Back in May 2019, EEPGL was granted approval by the Environmental Protection Agency (EPA) to go ahead with its Liza Phase 2 Development offshore Guyana.
The oil company had said that the project would have the capacity to produce 220,000 barrels of oil per day. Exxon had also revealed that the Liza Phase 2 development was funded at the cost of some US$6 billion, including a lease capitalisation cost of approximately US$1.6 billion for the Liza Utility floating FPSO vessel. For the Phase 2 Development, six drill centres were planned, along with approximately 30 wells – 15 productions, nine water injection and six gas injection wells.
The US$9 billion Payara development, the third development, will meanwhile target an estimated resource base of about 600 million oil-equivalent barrels, and was at one point considered to be the largest single planned investment in the history of Guyana.
The Yellowtail development, which will be oil giant ExxonMobil's fourth development in Guyana's waters, will turn out to be the single largest development so far in terms of barrels per day (bpd) of oil, with a mammoth 250,000 bpd targeted. (G3)