One of the largest commercial enterprises at the Charity Waterfront on the Essequibo Coast, Region Two (Pomeroon-Supenaam), was saved from erupting in flames by firefighters on Friday morning.
Based on information received, a security guard attached to the A & S Complex reported that she was at the front of the building at about 00:50h when the scent of burning tires caught her attention.
The 41-year-old woman, Kowsilla Boodram, said she later saw smoke emanating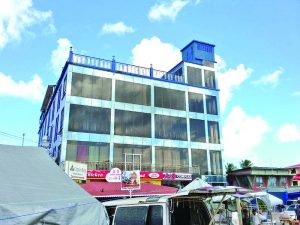 from the third floor and immediately raised an alarm. The Guyana Fire Service was summoned and officers on duty quickly brought the fire under control. Guyana Times understands that the section of the business which was burnt housed the electrical department, and contained millions of dollars in stocks.
When this publication arrived at the scene, the management was still calculating their losses while officers from the fire service were assessing the situation to determine the cause of the fire. General Manager of the Complex, Eric Gomes, said he was informed of the fire and rushed to the scene.
The enterprise is one of the most modern commercial buildings in Region Two, which houses a bar, a modern hotel, shopping centre, supermarket and restaurant.
One of the main concerns faced by residents is the plague of vending on the roadway. In the event of a fire, the roadway remains blocked and fire tenders face difficulties in accessing the waterfront.