– club to save GY$100,000 monthly on electricity
The Everest Cricket Club (ECC) in partnership with the Chinese Embassy, on Thursday commissioned $5.8M worth of solar panel at the Camp Street venue. The cricket club is now equipped with 36 solar panels which has the ability to generate 16.7 kilowatts energy.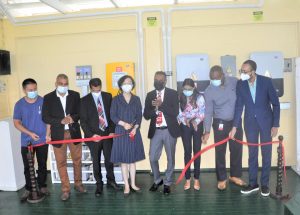 Speaker of the National Assembly and President of ECC Manzoor Nadir said the reduced expenses at the club will be invested further for developmental purposes. "In order for clubs to function, flourish and realize the potential of its members, membership dues alone cannot suffice, so you have to have a revenue mix, in terms of generating inflows, and think about projects to cut cost."
"While we are doing this to cut cost, we will have capacity to store two thousand gallons of water. That will reduce $50,000 month to Guyana Water Inc.," Nadir said.
The ECC and the Chinese Embassy to Guyana maintained a strong relationship since 2018. Gracing her presence at Everest on Thursday to cut the ribbon, Guo Haiyan, the Ambassador of the People's Republic of China to Guyana, said she was happy to play a role in the development of cricket at Everest. "I am happy for my friends of the club and I am proud that the Chinese Embassy can make some modest contributions to the development of the club."
Meanwhile, Dr Mahender Sharma, Chief Executive Officer of Guyana Energy Agency said Everest will save at least $GY100,000 on a monthly basis. "Based on this size, it represents just about 2000 kilowatt hours of energy per month. If we were looking at how much Everest would have to pay a month, it would have been about $GY100,000, so this investment that was provided by the people of China, is going to reduce the electricity bill by 100,000 every month, but that is an average number."
Everest Cricket Club has been in renovation mode, and this venue will host preparation matches for the upcoming ICC Under-19 World Cup from January 9, 2022.