21-year-old Brandon Corlette has ventured into the world of business with the launching of his own cricket store at Lot 11 Ulverston village, Corentyne Berbice.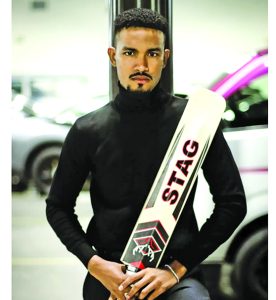 This young talent, a sports journalist employed by Guyana Times, continues to make major moves at a young age. His business, Cricnation592 Store, specialises in a plethora of top-notch cricketing gear used by some of the most exceptional players in the world.
Corlette, the Guyana Cricket Board's Journalist of the Year 2019, is a RHTY&SC Dolphin Awardee, the Dolphin award being the highest award bestowed by that club. The Minister of Culture, Youth and Sport, the Honourable Charles Ramson Jr, is a recipient of this award.
Asked why the venture into the business realm, Corlette replied, "I ventured into this area because of the high demand for cricket gear in Guyana and the limited number of stores available. I recalled (that) in my playing days, it was a struggle to get cricket gear, especially when you live in Berbice. So, my aim is to bring top quality cricket gear and help Guyanese. I also grew up in a business environment with my parents, so I was driven by them, especially my mom, to open my cricket store. The name cricnation592 came from Guyana being a cricketing nation, and 592 the area code.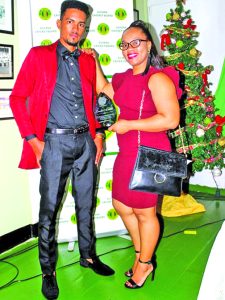 "After completing CAPE, I started a YouTube channel while playing cricket. I also wanted to have my own news and media website, which will surround cricket news, and I did accomplish that. I landed a job in 2018 at Guyana Times, and I continue to learn a lot there."
The young talent is optimistic that this move will see his store become a well-established business, and be a main supplier for cricket gear throughout Guyana. Additionally, it is his hope to support and sponsor cricketers and cricket clubs with gear in the future, as he believes that having quality cricket gear would aid players, especially young players, to perform at their optimum.
Having played school cricket at New Amsterdam Multilateral and Berbice High School, in addition to club cricket at Big Star, Rose Hall Town Youth and Sports Club and Tucber Park, cricket is a huge part of Corlette, and despite his not making it to play at the highest level, the love for the game remains within him.
Having his own cricket store, he is hoping to make a positive impact on cricketers. He believes that the opening of his cricket store was a long time coming. He reiterated that because of his mindset and always pressing towards the mark, he was able to balance life as a Journalist at Guyana Times and being a University student.
In terms of where he envisions his business heading, Corlette explained that his aim is to expand, as he would like to have multiple outlets and provide all top brand cricket gear. He noted that he would also like to maintain his delivery services, and perhaps open an outlet outside of Region 6.
"2021 has been good, despite the COVID-19 pandemic. I must credit the power of advertisement, because I was able to reach a diverse audience. I also prioritise delivery, which has benefited my business significantly. 2022 will be a great year, because more cricket will be played," Corlette posits.
You can find Cricnation592 store on Facebook and Instagram, and contact Corlette on 691-8177.